A group of veterans is up in arms in Kellogg over how a memorial honoring those that have served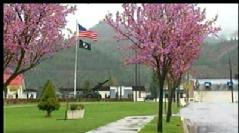 in the military has been mistreated. The issue? Two flags flying high above the Veterans memorial plaque and one of them has gotten local vets steamed. …"I have a huge passion for the American flag," veteran Casey Duncan said. "When I signed up for the Army I wrote a blank check saying that I would defend that flag." Local veterans informed the City of Kellogg that flying the "Tree City, USA" flag with the American flag was in violation of U.S. Code, Title 36, Chapter 10. The city however says the two flags have flown together for at least 13 years/Tania Dall, KXLY. More here.
Question: Do the Kellogg veterans have a legitimate gripe? Or are they late in complaining in view of the fact that the two flags have flown together for 13 years?