Bon sang ne saurait mentir! What's bred in the bone will come out in the flesh, the French like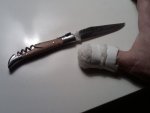 to say. Screw them and their stupid Laguiole knives I like to say. I picked up a brand new one with a spicy, aromatic juniper wood handle and a handy corkscrew for my birthday. Very sharp with a thinly profiled "slicer" edge. Perfect for those picnics in bucolic spring meadows with wine and cheese and a nearby medivac chopper with a full crew. Friday night I was dicking around with it while otherwise engaged on the computer, I was gently and safely sliding my thumb perpendicular to the blade admiring its chisel ground (one side of blade is ground in) sharpness when I decided to close it ON MY THUMB MEAT. They are spring loaded, they close hard and fast. The chisel ground sharpness sliced into my thumb like it was a willing soft piece of cheese and next thing I know my thumb is spurting red Bob juice all over the place and I'm rushing off to cold compress it with a wet towel and later wrap it tightly with 17 (seventeen) band-aids. And, it throbbed all night/TUBOB. More here.
Question (from TUBOB): What is your favorite French saying or proverb? Would you trust this knife again? Why or why not?