Junior called Mrs. O this morning to say that the movers arrived this morning to pack the stuff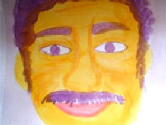 he and Sweet Stephanie accumulated during the last 8 years in Denver. On Friday, they will point their vehicle southeast to begin a 3 or 4 day road trip to Gainesville, Fla., where, God willing, Junior will complete a residency in neurosurgery at University of Florida 7 years from now. All of which reminds me of the great adventure that Mrs. O & I started two weeks shy of 33 years ago from central California. I'd never heard of Kalispell, Mont., until shortly before I was offered a job with Duane Hagadone's Daily Inter Lake in June 1977. My wife had never seen the Flathead Valley until I drove our rental truck down H93 into it. I often wonder what life would have been like, if I'd resisted the Big Sky call. It's been very interesting as is.
Question: Have you ever moved to a different location that changed the course of your life?