"Crazy Love." That's the name of the book organizers say inspired a plan to start a new warming center for the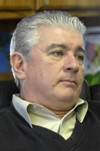 homeless in Post Falls that opened Monday night. "No matter what you do to show you love people, you can never really do enough," said Tom Hamilton, plant manager at Ground Force Manufacturing. The Post Falls company owned by Ron Nilson is donating use of a 4,000-square-foot warehouse at 6001 Seltice Way. It will have heat, lights, a kitchen, bathrooms, tables and chairs. It will be open daily 7 p.m. to 7 a.m. at least through February. Most important, it will provide a nightly shelter for the homeless from North Idaho's cold, wind, rain, snow and ice, said Patty McGruder, homeless outreach worker with the Dirne Community Health Center/Bill Buley, Coeur d'Alene Press. More here. H/T: JimmyMac.
DFO: Please join me in giving a hat tip to one of our own here at HucksOnline, Tom Hamilton, and his boss, Ron Nilson, for reaching out to the homeless in this terrific way.