Floating the Boise River is a great way to spend a hot weekend afternoon with the family. When done right, it's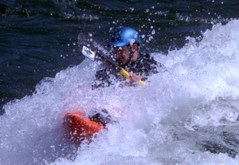 safe and easy. But as the Boise Fire Dive Team found out last month, it can turn hazardous fast. The dive team's raft capsized as its members were rescuing two girls stranded on a log near Veterans Memorial Park bridge. It all turned out well, in part because of the team's skills and the life jackets the girls were wearing. I, too, was reminded recently of how quick a leisurely float can turn into a similarly scary episode. I also saw the cooperative spirit of rafters and other floaters when one of their own gets into trouble. I was floating in my fishing pontoon boat that I had recently patched. It was the shake-down cruise before I went back to evening fishing floats that I had not done for years. The float started out OK/Rocky Barker, Idaho Statesman. More here.
(SR file photo:
Question: Have you ever had a near drowning experience?