Sun., Aug. 23, 2009, 12:30 a.m.
Fields set at Yellowstone Lucas event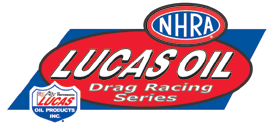 Jim Whiteley and Sean O'Bannon took the pole positions in Top Alcohol Dragster and Top Alcohol Funny Car in NHRA Lucas Oil Division 6 action.

Courtesy: NHRA Media Relations
ACTON, Mont. (August 22, 2009) – In the final rounds of qualifying for the NHRA Lucas Oil Drag Racing Series 6th Annual Summer Championships at Yellowstone Drag Strip it was Jim Whiteley and Sean O'Bannon taking the pole positions in Top Alcohol Dragster and Top Alcohol Funny Car.
Whiteley of Grand Junction, Colo., picked up nearly a tenth of a second in jumping to the No. 1 spot over division point's leader Shawn Cowie. Whiteley clocked in at 5.505 seconds, 257.92 mph with Cowie holding on to the second spot at 5.548, 257.19 and Kevin Wayman in third at 5.549, 257.19.
Ontario, Calif., racer O'Bannon bettered his Friday mark of 5.839 seconds with a 5.806 second run at 248.29 mph to lead the field.  O'Bannon who runs out of the NHRA Pacific Division is followed by Ken Webster of Red Deer, A.B., CAN., at 5.883 seconds, 245.32 mph.  Webster is tied for the points lead in the Northwest division with No. 4 qualifier Brian Hough who is looking to repeat as the division champion.
Carroll Warling, Brighton, Colo., and Tony Hernandez, Denver, held onto the top spots in Super Stock and Stock respectively. Warling is followed by Byron Setters, Red Deer, A.B., CAN., while Mike Coe, Grand Junction, Colo., trails  Hernandez's and his '66 Corvette .
Barry Daniluk, also of Red Deer, A.B., CAN., is the lone Auto Max USA Top Sportsman racer to reach the 200 mph mark taking the No. 1 spot at 200.20 mph in 6.828 seconds with Dave Slatten, Ft. Collins, Colo., in second at 7.180, 192.52.  Barry's son Steve just missed equaling Dad qualifying No. 2 in Top Dragster behind Steve Cook of Rexburg, Idaho.  Cook clocked in at 6.903, 195.08 with Steve Daniluk posting a run of 6.980, 191.97 mph.  Four hometown drivers from Billings, Mont., round out the top ten in Top Sportsman with Brian Steif and his '63 Corvette in sixth at 7.517, 182.50.
In the Sportsman Motorcycle presented by Harley Davidson class it was Leeland King, Shelton, Wash., making the jump to the top with a 0.007 second reaction time on his '90 ZX-7.  Rick Newport, West Valley, Utah., is second at 0.009 seconds.
Racing continues Sunday at Yellowstone Drag Strip.  Gates open at 8 a.m with racing kicking off at 9 a.m.  Round one of Top Alcohol Dragsters and Funny Cars is set for noon.
The following are Saturday's final qualifying results and Sunday's first-round pairings for TAD and TAFC at the NHRA Lucas Oil Drag Racing Series 6th Annual Summer Championships at Yellowstone Drag Strip:

TOP ALCOHOL DRAGSTER
1) Jim Whiteley, Grand Junction, Colo., 5.505 seconds, 257.92 mph
2) Shawn Cowie, Delta, B.C., 5.548, 257.19
3) Kevin Wayman, South Jordan, Utah, 5.549, 253.90
4) Justin Davis, Murrieta, Calif., 5.563, 255.68
5) Ashley Bart, High River, Alb., 5.586, 256.55
6) Joey Severance, Spanaway, Wash., 5.594, 254.47
7) Cody Perkins, Bluffdale, Utah, 5.630, 251.39
8) Eugene Tumbarello, Denver, 5.764, 248.20
Not Qualified
9) Greg Tacke, Great Falls, Mont., 5.782, 241.80
10) Don St Arnaud, Edmonton, Alb., 5.825, 231.56
11) Jaren Mott, Salt Lake City, 5.970, 232.35

First round TAD pairings
1) Jim Whiteley, Grand Junction, Colo., 5.505 seconds, 257.92 mph vs.
8) Eugene Tumbarello, Denver, 5.764, 248.20

2) Shawn Cowie, Delta, B.C., 5.548, 257.19 vs.
7) Cody Perkins, Bluffdale, Utah, 5.630, 251.39

3) Kevin Wayman, South Jordan, Utah, 5.549, 253.90 vs.
6) Joey Severance, Spanaway, Wash., 5.594, 254.47

4) Justin Davis, Murrieta, Calif., 5.563, 255.68 vs.
5) Ashley Bart, High River, Alb., 5.586, 256.55

TOP ALCOHOL FUNNY CAR
1) Sean O'Bannon, Ontario, Calif., '08 Monte Carlo, 5.806 seconds, 248.29 mph
2) Ken Webster, Red Deer, Alb., '09 Monte Carlo, 5.883, 245.32
3) Brian Thiel, Pleasant Grove, Calif., '02 Camaro, 5.908, 242.28
4) Brian Hough, Junction City, Ore., '06 Monte Carlo, 5.946, 242.41
5) Clint Thompson, Klamath Falls, Ore., '06 Monte Carlo, 5.987, 243.15
6) Dave Germain, Toledo, Wash., '02 Firebird, 6.030, 236.67
7) Robert Kanenwisher, Conifer, Colo., '04 Camaro, 6.092, 220.76
8) Jordan Pawlick, Calmar, Alb., '02 Avenger, 6.099, 230.84
Not Qualified
9) Paul Anderson, Firestone, Colo., '03 Camaro, 6.129, 236.17

First round TAFC pairings
1) Sean O'Bannon, Ontario, Calif., '08 Monte Carlo, 5.806 seconds, 248.29 mph vs.
8) Jordan Pawlick, Calmar, Alb., '02 Avenger, 6.099, 230.84

2) Ken Webster, Red Deer, Alb., '09 Monte Carlo, 5.883, 245.32 vs.
7) Robert Kanenwisher, Conifer, Colo., '04 Camaro, 6.092, 220.76

3) Brian Thiel, Pleasant Grove, Calif., '02 Camaro, 5.908, 242.28 vs.
6) Dave Germain, Toledo, Wash., '02 Firebird, 6.030, 236.67

4) Brian Hough, Junction City, Ore., '06 Monte Carlo, 5.946, 242.41 vs.
5) Clint Thompson, Klamath Falls, Ore., '06 Monte Carlo, 5.987, 243.15

COMP ELIMINATOR
1) Clint Neff, Arvada, Colo., '23 roadster, K/A, 8.110 seconds, -0.740 (under index)
2) Kevin Smith, Parker, Colo., '04 Cavalier, B/AA, 7.286, -0.624
3) Dale Giroux, Canyon Creek, Alb., '04 Cavalier, B/AA, 7.317, -0.593
4) Clint Sallee, Glendive, Mont., dragster, B/D, 6.977, -0.553
5) Bruce Schmiedl, Regina, Sask., '32 Bantam, A/EA, 7.735, -0.415
6) Casey Plaizer, Edmonton, Alb., '04 Cavalier, C/SMA, 9.230, 0.090

SUPER STOCK
1) Carroll Warling, Brighton, Colo., '74 Grand Am, SS/MA, 11.387 seconds, -1.333 (under index)
2) Byron Setters, Red Deer, Alb., '09 G5, GT/BA, 9.840, -1.210
3) Rob Youngblood, Nampa, Idaho, '76 Corvette, SS/J, 10.479, -1.141
4) Casey Setters, Red Deer, Alb., '05 Cavalier, GT/AA, 9.783, -1.107
5) Jim Storms, Renton, Wash., '98 Avenger, GT/FA, 10.517, -1.103
6) Alan Falcone, Seattle, '91 Calais, GT/CA, 10.111, -1.099
7) Norm Lapointe, Sherwood Park, Alb., '07 Cobalt, GT/AA, 9.869, -1.021
8) Caitlin Setters, Red Deer, Alb., '96 Camaro, GT/EA, 10.453, -1.017
9) Grant Singer, Regina, Sask., '90 Camaro, SS/BS, 9.410, -1.010
10) Glenn Snow, St. George, Utah, '85 Trans Am, GT/EA, 10.586, -0.884

STOCK ELIMINATOR
1) Tony Hernandez, Denver, '66 Corvette, F/S, 11.343 seconds, -1.327 (under index)
2) Mike Coe, Grand Junction, Colo., '73 Dart, G/S, 11.519, -1.261
3) Bob Gullett, Calgary, Alb., '68 Nova, G/S, 11.542, -1.238
4) Charlene Gullett, Calgary, Alb., '80 Malibu, L/SA, 12.484, -1.126
5) Tommy Gaynor, Vancouver, Wash., '98 Camaro, C/SA, 11.150, -1.100
6) Terry Hembree, Idaho Falls, Idaho, '69 Camaro, E/SA, 11.475, -1.095
7) Glenn Person, Regina, Sask., '70 Challenger, C/SA, 11.173, -1.077
8) Jeff Parker, Casper, Wyo., '70 Camaro, E/S, 11.513, -0.997
9) Alan Messer, Richardton, N.D., '68 Camaro, A/S, 10.793, -0.987
10) Jon Irving, Boulder City, Nev., '78 Aspen Wagon, N/SA, 12.994, -0.936

TOP SPORTSMAN
1) Barry Daniluk, Red Deer, Alb., '68 Camaro, 6.828 seconds, 200.20 mph
2) Dave Slatten, Ft. Collins, Colo., '05 Grand Am, 7.180, 192.52
3) Todd Fleck, Medicine Hat, Alb., '06 GTO, 7.220, 190.97
4) Roy Trees, Riverton, Wyo., '08 Grand Am, 7.295, 188.17
5) Ken Tupper, Spokane, Wash., '49 Ford, 7.307, 191.40
6) Brian Steif, Billings, Mont., '63 Corvette, 7.517, 182.50
7) Todd Litton, Billings, Mont., '04 Cavalier, 7.606, 179.28
8) John Baker, Grand Junction, Colo., '08 Cobalt, 7.722, 179.35
9) Jake Neibauer, Billings, Mont., '63 Corvette, 7.752, 175.39
10) Paul Menholt, Billings, Mont., '09 Cobalt, 8.113, 171.40

TOP DRAGSTER
1) Steve Cook, Rexburg, Idaho, dragster, 6.903 seconds, 195.08 mph
2) Steve Daniluk, Red Deer, Alb., dragster, 6.980, 192.19
3) Barbara Heggie, Laramie, Wyo., dragster, 7.141, 183.92
4) Darren Stettner, Regina, Sask., dragster, 7.199, 185.41
5) Annie Whiteley, Grand Junction, Colo., dragster, 7.246, 186.41
6) Anita Olsen, Grand Junction, Colo., dragster, 7.253, 185.33
7) Denny Menholt, Billings, Mont., dragster, 7.304, 184.22
8) Jim Caudill, Littleton, Colo., dragster, 7.386, 176.49
9) Jeff Scheller, Billings, Mont., dragster, 7.418, 186.05
10) Sarah Smith, Worland, Wyo., dragster, 7.448, 181.91

SPORTSMAN MOTORCYCLE
1) Leeland King, Shelton, Wash., '90 ZX-7, SMC, 0.007 seconds reaction time
2) Rick Newport, West Valley, Utah, '95 Suzuki, SMC, 0.009
3) Miles Hauer, Seattle, Wash., '04 Koenig, SMC, 0.010
4) Mark Biernbaum, Billings, Mont., '95 Buell, ETMX, 0.068
---
---