Sun., June 21, 2009, 10 p.m.
Cowie wins fifth, Gasparrelli first of the year at Pacific Raceways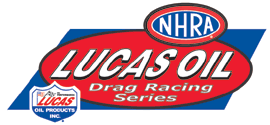 Shawn Cowie went into eliminations from the No. 1 qualifying spot and squared off against No. 2 qualifier Joey Severance, Spanaway, Wash., in the final.  Cowie laid down a 5.370-second, 268.81 mph pass which was more than enough to cover Severance who slowed to a 16.152-second run at 52.69 mph.  Severance was also runner-up to Cowie at the division's race last week at Spokane County Dragway.
Courtesy: NHRA Media Relations


KENT, Wash. (June 21, 2009) – After two days of rain delays at the NHRA Lucas Oil Drag Racing Series at Pacific Raceways, Sunday's eliminations went off without a hitch.  And for Top Alcohol Dragster racer Shawn Cowie it was worth the wait.  The Delta, B.C., resident won his fifth race in as many tries.  Steve Gasparrelli, West Covina, Calif., didn't mind the setbacks, either, as he wheeled his Top Alcohol Funny Car to the winner's circle for the first time this year.

Cowie went into eliminations from the No. 1 qualifying spot and squared off against No. 2 qualifier Joey Severance, Spanaway, Wash., in the final.  Cowie laid down a 5.370-second, 268.81 mph pass which was more than enough to cover Severance who slowed to a 16.152-second run at 52.69 mph.  Severance was also runner-up to Cowie at the division's race last week at Spokane County Dragway.

Gasparrelli, who claims the NHRA Pacific division as his home, took on Clint Thompson of Klamath Falls, Ore., in the final.  Gasparrelli made the best run of the weekend, a 5.585-second, 257.38 mph effort, against Thompson.  Thompson ran 5.651 seconds at 252.19 mph.

Doug Lambeck, Corona Del Mar, Calif., won his second Comp Eliminator title in two weeks when he ousted Northwest division points leader Clint Neff, Avada, Colo., in the final.  Eagle, Idaho's Wes King took his '67 Nova to the win in Super Stock, beating out Gary Faul of Spanaway, Wash., in his '66 El Camino.  Tacoma's Mark Faul grabbed the Stock Eliminator win in his '69 Chevelle when he beat Auburn, Wash., racer Toby Lang. 

Super Comp winner Don Juel of Spokane, Wash., beat Howard Johnson, Graham, Wash., in the final round while the Super Gas win went to reigning division champ Mike Ferderer of Buckley, Wash., who beat Mike Shannon, Kelowna, B.C., in the final.  Justin Sibley, another Tacoma resident, scored the win in Super Street as he knocked off Tom Brown, Sedro Wolley, Wash., in the final.  Randy Johnson, Snowhomish, Wash., won in Top Sportsman, beating Lloyd Flatum, Marysville, Wash., in the final and the Top Dragster win went to Tacoma's Mike Henderson who ousted Jessica Juel of Spokane, Wash., in the final round.  Jeff Havens, Yakima, Wash., was the winner in Sportsman Motorcycle presented by Harley Davidson when he beat Leeland King, Shelton, Wash., in the final.  Super Pro racer Craig Olson, Camano Island, Wash., scored the win over Jody Murray, Bonney Lake, Wash.

Northwest division racers head to Oregon for the next NHRA Lucas Oil Drag Racing Series event. Woodburn Dragstrip will host the series July 10-12.

The following are the final results from the NHRA Lucas Oil Drag Racing Series event at Pacific Raceways:

TOP ALCOHOL DRAGSTER
Round 1
1) Shawn Cowie, Delta, B.C., 5.467, 268.38 def.
8) Gregg Lawrence, Salem, Ore., 5.616, 248.71

2) Joey Severance, Spanaway, Wash., 5.412, 264.18 def.
7) Doug Hegge, Vancouver, Wash., 5.380, 271.62

3) Steve Federlin, Oregon City, Ore., 5.413, 264.80 def.
6) Brandon Johnson, Shelton, Wash., 5.406, 262.18

5) Dale Carlson, Olympia, Wash., 8.948, 116.70 def.
4) Ashley Bart, High River, Alb., broke

Semifinals
Severance, 5.352, 267.27 def. Federlin, 5.397, 263.10
Cowie, 5.412, 268.12 def. Carlson, broke

Final
Cowie, 5.370, 268.81 def. Severance, 16.152, 52.69

TOP ALCOHOL FUNNY CAR
Round 1
1) Ken Webster, Red Deer, Alb., '06 Monte Carlo, 5.668, 256.89 def.
 8) John Evanchuk, Edmonton, Alb., '02 Firebird, foul

2) Steve Gasparrelli, W. Covina, Calif., '09 Mustang, 5.620, 258.42 def.
7) John Lombardo Jr., Brea, Calif., '05 Camaro, broke

3) Brian Hough, Junction City, Ore., '06 Monte Carlo, 5.682, 254.86 def.
6) Sean Bellemeur, Tustin, Calif., '04 Firebird, 5.711, 253.52

5) Clint Thompson, Klamath Falls, Ore., '06 Monte Carlo, 17.117, 68.36 def.
4) Brian Thiel, Pleasant Grove, Calif., '02 Camaro, foul

Semifinals
Thompson, 5.712, 251.91 def. Webster, 5.665, 254.57
Gasparrelli, 6.202, 250.00 def. Hough, 12.432, 99.50

Final
Gasparrelli, 5.585, 257.38 def. Thompson, 5.651, 252.19

COMP ELIMINATOR
Doug Lambeck, Corona Del Mar, Calif., '06 Sunfire, D/SMA, 17.179, 61.23 def.
 Clint Neff, Arvada, Colo., '23 roadster, K/A, broke

SUPER STOCK
Wes King, Eagle, Idaho, '67 Nova, SS/CS, 9.885, 131.36 def.
Gary Faul, Spanaway, Wash., '66 El Camino, SS/MA, 11.873, 105.90

STOCK ELIMINATOR
Mark Faul, Tacoma, Wash., '69 Chevelle, B/SA, 11.266, 116.67 def.
Toby Lang, Auburn, Wash., '69 Chevelle, F/SA, 11.623, 111.11

SUPER COMP
Don Juel, Spokane, Wash., dragster, 8.877, 167.80 def.
Howard Johnson, Graham, Wash., dragster, 8.861, 170.56

SUPER GAS
Mike Ferderer, Buckley, Wash., '03 Grand Am, 9.917, 163.91 def.
Mike Shannon, Kelowna, B.C., '57 Corvette, 9.902, 157.08

SUPER STREET
Justin Sibley, Tacoma, Wash., '68 Camaro, 10.837, 127.87 def.
Tom Brown, Sedro Wolley, Wash., '66 Chevy II, 10.828, 147.52

TOP SPORTSMAN
Randy Johnson, Snohomish, Wash., '04 Cavalier, 7.607, 171.29 def.
Lloyd Flatum, Marysville, Wash., '01 S-10, 7.960, 171.51

TOP DRAGSTER
Mike Henderson, Tacoma, Wash., dragster, 7.276, 161.42 def.
Jessica Juel, Spokane, Wash., dragster, 8.176, 111.01

SPORTSMAN MOTORCYCLE
Jeff Havens, Yakima, Wash., '95 Suzuki, 8.051, 136.93 def.
Leeland King, Shelton, Wash., '90 Kawasaki, 8.230, 157.67

SUPER PRO
Craig Olson, Camano Island, Wash., '66 Nova, 8.901, 148.89 def.
Jody Murray, Bonney Lake, Wash., '62 Nova, 9.650, 136.37
---
---