Thu., May 21, 2009, 5:03 p.m.
EARLY START TIME FOR YAKIMA SPEEDWAY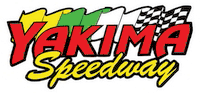 Yakima Speedway has announced earlier start times for this weekend's events.
(Yakima, WA) 5/21/09  by Kelly Hart – Speedway Media
            As families prepare for the 2009 Memorial Day Weekend, ASA Sanctioned Yakima Speedway is giving race fans a head start on their weekend by moving up the start times for this Saturday. Racers can enter the race track at 10:00 a.m. with spectator gates set to open at 2:00 p.m. The weather is supposed to be sunny and in the 80's when the side-by-side, adrenaline pumping auto racing starts after opening ceremonies at 4:00 p.m.
            Visiting Yakima Speedway for the first time in 2009 is the Limited Late Model Racing Series. These cars are Late Models with some engine and chassis restrictions making Late Model racing more affordable for these teams. "Terrible" Tim MacDougald from Spanaway, WA leads a strong field of cars to the ½ mile paved raceway. The first race of the series was rained out a few weeks ago so this will be the season opener for many teams. Jeff Mullins and Vic Beard from the Yakima area are expected to run in this division on Saturday.
            Also scheduled to appear are the Burger Ranch Sportsman from the local Yakima Speedway classes. So far the new rules package and tight racing has garnered praise from both fans and racers alike. Reese Kastl and defending class champion Mel Patnode are locked in a tight one point battle 114-113 for first place after two races. Jesse Vincent, Terry Taylor and Thomas Benscoter, Sr. round out the top 5. 15 cars have earned points in the division so far.
            Action on the smaller 1/7th mile infield track at Yakima Speedway on Saturday will feature the Hornets and Bump to Pass cars. The Bump to Pass field will be trying to catch defending champion Donnie "Human Smoke Show" Stevens and Kyle Wade who are tied atop the standings at 100 points apiece. Joe Stevens has 99 points for third and Jake Breshears and Mark Mager are sitting in 4th and 5th place with 98 and 97 points in a very close battle.
            The Hornet division has held just one race in the early 2009 season. Rookie Ryan Kallenberger won the main event in his first ever night in the race car on May 9th and is the point leader over Josh Parmentier, Steve Hall, Eric Appleby and Marcus Maggard.
            Ticket prices are $10.00 for 12 and over, with under 12 years olds $6.00. Full service concessions stands, an arcade, and plenty of sun-drenched racing action await you this Saturday afternoon starting at 4:00 p.m. at Yakima Speedway.
            Media information is available by calling Track General Manager Steve Conduff at 509.833.5598 or Track Announcer Kelly Hart at 509.833.5597.
---
---