Sun., May 24, 2009, 9:33 a.m.
Johnson, Hough lead qualifiers into eliminations at Mission Raceway Park's Lucas Oil Event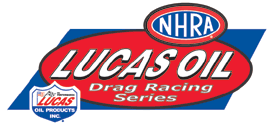 Post Falls, Idaho driver Dan Barton grabbed second in the Comp Eliminator qualifying rounds. Medical Lake's Glen Hultberg sits in sixth place for Top Dragsters after two days of Lucas Oil Drag Racing Series qualifying at Mission Raceway in British Columbia.
Courtesy: NHRA Media Relations

MISSION, B.C. (May 23, 2009) – Qualifying is complete at the Lordco BC Nationals, a round of the NHRA Lucas Oil Drag Racing Series at Mission Raceway Park.  Shelton, Wash., racer Brandon Johnson drove his Top Alcohol Dragster to the top of the field and Brian Hough, Junction City, Ore., remained the best qualifier in Top Alcohol Funny Car.  Terry Spargo of Delta continued to lead the Top Sportsman class and Burnaby's Kelly Vos stayed atop the Sportsman Motorcycle presented by Harley Davidson class.
Johnson moved past Delta resident Shawn Cowie when Cowie failed to improve on Friday's qualifying run.  Johnson's 5.360-second, 266.11 mph pass was enough to move him ahead of Cowie whose best run was 5.371 seconds at 269.94 mph.  Mission resident Leo Grocock and Sumas racer Bill Edwards Jr. both failed to make the eight-car eliminations field.
Hough did not improve on his initial qualifying pass either but his 5.657-second, 256.77 mph lap was enough to keep him ahead of John Evanchuk, Edmonton, Alb., who moved from the No. 3 spot to No. 2 with a 5.706-second, 251.35 mph pass.
Casey Plaizer, Edmonton, Alb., drove his '04 Cavalier up one spot to be the top qualifier in Comp Eliminator.  In Super Stock, Byron Setters, Red Deer, Alb., stayed in the No. 1 spot and Jim Mantle, Black Creek, B.C., moved from the third spot in Stock Eliminator to No. 1. Neil Lachelt, Kelowna, B.C., moved to the No. 1 spot in Top Dragster.
Racing continues Sunday at Mission Raceway Park.  Gates open at 8 a.m. and eliminations start at 9 a.m.  Eliminations start Sunday at 9 a.m.  Top Alcohol Dragster and Top Alcohol Funny Car will run first round at noon.
General admission tickets for the Lordco BC Nationals are $20. Pit passes are $5 each day.  Children 12 and under are admitted free.
Mission Raceway Park is located 10 miles north of Sumas, Wash., on Highway 11.  For more information call the track, (604) 826-6315, or visit www.MissionRaceway.com.
The following are Saturday's final qualifying results and Sunday's first-round pairings for TAD and TAFC at the Lordco BC Nationals at Mission Raceway Park:
TOP ALCOHOL DRAGSTER
1) Brandon Johnson, Shelton, Wash., 5.360 seconds, 266.11 mph
2) Shawn Cowie, Delta, B.C., 5.371, 269.94
3) Joey Severance, Spanaway, Wash., 5.408, 260.64
4) Justin Davis, Murrieta, Calif., 5.426, 262.92
5) Dale Carlson, Olympia, Wash., 5.484, 258.47
6) Doug Hegge, Vancouver, Wash., 5.485, 261.39
7) Ashley Bart, High River, Alb., 5.560, 241.15
8) Kim Parker, Graham, Wash., 5.621, 253.95
Not Qualified
9) Gregg Lawrence, Salem, Ore., 5.662, 252.10
10) Bill Edwards Jr., Sumas, Wash., 5.738, 247.45
11) Leo Grocock, Mission, B.C., 6.161, 210.37

First round TAD pairings
1) Brandon Johnson, Shelton, Wash., 5.360 seconds, 266.11 mph vs.
8) Kim Parker, Graham, Wash., 5.621, 253.95

2) Shawn Cowie, Delta, B.C., 5.371, 269.94 vs.
7) Ashley Bart, High River, Alb., 5.560, 241.15

3) Joey Severance, Spanaway, Wash., 5.408, 260.64 vs.
6) Doug Hegge, Vancouver, Wash., 5.485, 261.39

4) Justin Davis, Murrieta, Calif., 5.426, 262.92 vs.
5) Dale Carlson, Olympia, Wash., 5.484, 258.47

TOP ALCOHOL FUNNY CAR
1) Brian Hough, Junction City, Ore., '06 Monte Carlo, 5.657 seconds, 256.77 mph
2) John Evanchuk, Edmonton, Alb., '02 Firebird, 5.706, 251.35
3) Clint Thompson, Klamath Falls, Ore., '06 Monte Carlo, 5.708, 253.37
4) Ken Webster, Red Deer, Alb., '06 Monte Carlo, 5.735, 252.88
5) Rob Atchison, London, Ont., '06 Monte Carlo, 5.779, 253.59
6) Tim Nemeth, Chilliwack, B.C., '02 Camaro, 5.811, 248.31
7) Trevor Lebsack, Slave Lake, Alb., '05 Camaro, 6.200, 214.54

First round TAFC pairings
1) Brian Hough, Junction City, Ore., '06 Monte Carlo, 5.657 seconds, 256.77 mph vs. Bye

2) John Evanchuk, Edmonton, Alb., '02 Firebird, 5.706, 251.35 vs.
7) Trevor Lebsack, Slave Lake, Alb., '05 Camaro, 6.200, 214.54

3) Clint Thompson, Klamath Falls, Ore., '06 Monte Carlo, 5.708, 253.37 vs.
6) Tim Nemeth, Chilliwack, B.C., '02 Camaro, 5.811, 248.31

4) Ken Webster, Red Deer, Alb., '06 Monte Carlo, 5.735, 252.88 vs.
5) Rob Atchison, London, Ont., '06 Monte Carlo, 5.779, 253.59

COMP ELIMINATOR
1) Casey Plaizer, Edmonton, Alb., '04 Cavalier, C/SMA, 8.127 seconds, -0.703 (under index)
2) Dan Barton, Post Falls, Idaho, '05 Cavalier, G/SMA, 8.674, -0.686
3) Dale Giroux, Canyon Creek, Alb., '05 Cavalier, B/AA, 7.004, -0.636
4) Pat Byron, Hoquiam, Wash., dragster, C/D, 6.847, -0.633
5) Brandon Huhtala, Puyallup, Wash., '97 Cutlass, C/A, 7.361, -0.619
6) Adam Bowdish, Oregon City, Ore., '89 Trans Am, H/SM, 8.950, -0.590
7) Jim Warter, Olalla, Wash., '92 Camaro, F/SM, 8.671, -0.579
8) Ray Hadford, Everett, Wash., dragster, A/ND, 6.889, -0.571
9) Clint Neff, Arvada, Colo., '23 roadster, K/A, 7.973, -0.567
10) Jeff Lane, North Bend, Wash., '07 Cobalt, C/SMA, 8.269, -0.561

SUPER STOCK
1) Byron Setters, Red Deer, Alb., '09 G5, GT/BA, 9.215 seconds, -1.335 (under index)
2) Sean Cour, Brush Prairie, Wash., '09 Cobalt, GT/BA, 9.256, -1.294
3) Mike Pruss, Red Deer, Alb., '02 Firebird, SS/IA, 9.751, -1.249
4) Tom Nolan, Lacombe, Alb., '02 S-10, GT/TA, 9.653, -1.197
5) Alan Falcone, Seattle, '91 Calais, GT/CA, 9.518, -1.182
6) Jim Storms, Renton, Wash., '98 Avenger, GT/FA, 9.931, -1.169
7) Tibor Kadar, Peoria, Ariz., '09 G5, GT/AA, 9.263, -1.137
8) Casey Setters, Red Deer, Alb., '05 Cavalier, GT/AA, 9.296, -1.104
9) Kevin Cour, Portland, Ore., '05 Cavalier, GT/DA, 9.722, -1.078
10) Caitlin Setters, Red Deer, Alb., '96 Camaro, GT/EA, 9.874, -1.076

STOCK ELIMINATOR
1) Jim Mantle, Black Creek, B.C., '79 Pacer Wgn, V/SA, 14.495 seconds, -1.305 (under index)
2) Tommy Gaynor, Vancouver, Wash., '98 Camaro, C/SA, 10.395, -1.305
3) Bruce Flodin, Abbotsford, B.C., '95 Dodge, R/SA, 13.084, -1.266
4) Tibor Kadar, Peoria, Ariz., '67 Camaro, D/SA, 10.585, -1.265
5) John Hill, Fairbanks, Alaska, '86 Camaro, H/SA, 11.203, -1.247
6) Bob Gullett, Calgary, Alb., '68 Nova, F/S, 10.907, -1.193
7) Cal Method, Kennewick, Wash., '69 Nova, B/SA, 10.362, -1.188
8) Larry Peterson, Eugene, Ore., '71 Chevelle, B/SA, 10.363, -1.187
9) Tom Gaynor, Vancouver, Wash., '95 Firebird, D/SA, 10.696, -1.154
10) Chuck Porter, Edmonton, Alb., '85 Camaro, J/SA, 11.602, -1.148

TOP SPORTSMAN
1) Terry Spargo, Delta, B.C., '02 Cavalier, 6.569 seconds, 211.96 mph
2) Greg Carlile, Lake Stevens, Wash., '96 Corvette, 6.836, 204.77
3) Mike Strickland, Moses Lake, Wash., '07 Mustang, 6.927, 191.73
4) Randal Olynyk, Edmonton, Alb., '96 Firebird, 7.003, 194.97
5) Roy Moznik, Surrey, B.C., '69 El Camino, 7.004, 198.80
6) Craig Olson, Camano Island, Wash., '07 Stratus, 7.263, 189.51
7) Frank Nelson, Auburn, Wash., '05 Cavalier, 7.290, 191.04
8) Gary Zellner, Scio, Ore., '53 Corvette, 7.311, 189.03
9) Steve Nicholson, Aldergrove, Alb., '66 Nova, 7.443, 188.16
10) Randy Johnson, Snohomish, Wash., '04 Cavalier, 7.453, 184.23

TOP DRAGSTER
1) Neil Lachelt, Kelowna, B.C., dragster, 6.546 seconds, 212.36 mph
2) Steve Daniluk, Red Deer, Alb., dragster, 6.700, 198.63
3) Tom Koenen, North Bend, Ore., dragster, 6.873, 195.27
4) Geordie Castle, Sherwood Park, Alb., dragster, 6.879, 195.05
5) Eddy Plaizier, Edmonton, Alb., dragster, 6.941, 192.88
6) Glen Hultberg, Medical Lake, Wash., dragster, 6.960, 194.25
7) Norm Mitchell, Montrose, B.C., dragster, 6.965, 193.21
8) John Evans, North Delta, B.C., dragster, 6.992, 191.36
9) Dale Green, Kent, Wash., dragster, 6.997, 191.08
10) Mike Henderson, Tacoma, Wash., dragster, 7.023, 191.28

SPORTSMAN MOTORCYCLE
1) Kelly Vos, Burnaby, B.C., '78 Suzuki, SMC, 0.003 seconds reaction time
2) Miles Hauer, Seattle, '81 Suzuki, SMC, 0.003
3) Doug Rathbun, Oak Harbor, Wash., '74 Kawasaki, SMC, 0.005
4) Jeff Havens, Yakima, Wash., '95 Suzuki, SMC, 0.007
5) Jim Shellenberger, Salem, Ore., '79 Kawasaki, SMC, 0.013
6) Jan Cook, Kamloops, B.C., '75 Kawasaki, SMC, 0.016
7) Jon Jenkins, Richmond, B.C., '80 Suzuki, SMC, 0.018
8) Leeland King, Shelton, Wash., '90 Kawasaki, SMC, 0.020
9) Al Omond, Surry, B.C., '94 Kawasaki, SMC, 0.021
10) Tracy Bailey, Coos Bay, Ore., '75 Kawasaki, SMC, 0.038
---
---