Sun., Nov. 1, 2009, 4 p.m.
Several Northwest Division championships undecided as season nears close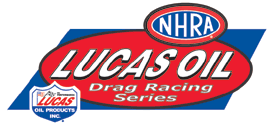 Northwest NHRA racing may have closed out the season but regional drivers are still fanned out across the Western United States hunting for championships.
Courtesy: NHRA Media Relations
Six drivers have clinched season championships in the Northwest Division, but five classes are still undecided. For West Coast racers, only the Las Vegas Lucas Oil Series event remains. Here are the various championship scenarios:

Top Alcohol Dragster
Shawn Cowie has clinched.

Top Alcohol Funny Car
Brian Hough has clinched.

Comp
Doug Lambeck leads with 337 points and is out of races to claim.
Brandon Huhtala must win his final event to pass Lambeck.

Super Stock
Jody Lang has clinched.

Stock
Greg Kielman leads with 353 points. He starts earning more points if he wins second round at his final event.
Jody Lang is 34 points back and must advance to the semi's at his final event to pass Kielman, assuming Kielman doesn't add to his total. Kielman can clinch outright by advancing to the 5th round, regardless of what Lang does.

Super Comp
Michael Dalrymple leads with 323 points. He must win the 3rd round to add to his total.
Steve Apted trails by 3 points and adds points by winning round 2.
Tom Pappas trails by 11 points and adds to his total by winning round 2.
Ed Hauter, Jr. must advance to the final to pass Dalrymple.

Super Gas
Mike Ferderer has clinched.

Super Street
Bob Sims leads Jim Glenn by 1 point. All told, 11 drivers can still win the title. Sims needs to advance to the 4th round to add points, while Glenn adds points by winning round 1. Other drivers in the hunt include Gerry Epp, Jeff Jackson, Jay Fulcher, Bob Landry, Tom Manfred, Leon Elliott, Larry Miner, Dudley Gee, and Ken Woodward.

Top Dragster
Jon Riedel has clinched.

Top Sportsman
Randy Johnson has clinched.

Sportsman Motorcycle
Jeff Havens leads with 329 points and needs to win round 2 to add to his total.
Tracy Bailey trails by 12 points and adds to his total by winning the 1st round.
Leeland King can only pass Havens by winning an event with more than 32 entries.
---
---