Wed., June 2, 2010, 6:07 a.m.
Mother Nature Halts Lucas Oil Series Drag Racing Action In British Columbia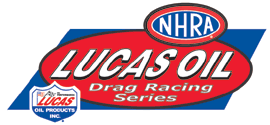 An all-weekend rain storm forced NHRA Division 6 officials to postpone the event with some action picking up at Pacific Raceway later this summer.
Courtesy: NHRA Media Relations
MISSION, B.C. (JUNE 1, 2010) – Mother Nature put an end to the racing action this past weekend for the NHRA Lucas Oil Drag Racing Series and the LORDCO B.C. Nationals at Mission Raceway Park.  NHRA and track officials finally postponed and re-scheduled the event on Monday morning with rain continuing to fall in Mission.
Top Alcohol Funny Car will complete their elimination rounds at the NHRA Full Throttle National event July 9-11 at Pacific Raceways outside of Seattle during qualifying for the NHRA Northwest Nationals. The Sportsman Motorcycle class presented by Harley Davidson along with Super Pro will run eliminations on July 24 at the Mission Raceway National Open event.  All remaining classes including Top Alcohol Dragster will complete the event on Thursday, August 19, prior the NHRA Lucas Oil Drag Racing Series Olympics of Drag Racing event at Pacific Raceways.
 Eliminations began on Sunday prior to the rain moving into the area.  In Top Alcohol Funny Car Brian Hough, Clint Thompson, and John Evanchuk all advanced to round two.  Hough, Junction City, Ore., qualified number one and took out Jeff Ashwell, Keizer, Ore., in round one.  Thompson, Klamath Falls, Ore., beat Rob Atchison, London, Ont., and Evanchuk ousted Nathan Sitko, both of Edmonton, A.B.
In the Top Alcohol Dragster class only Dale Carlson, Olympia, Wash., and Mike Austin, Medford, Ore., were able to advance before the rain stopped the action.  Carlson defeated Joey Severance, Woodburn, Ore., and Austin advanced when Leo Grocock, Mission, B.C., suffered engine problems on the burnout and could not make his run.  When eliminations resume, Shawn Cowie will face off against Don St. Arnaud and Bill Edwards Jr. will take on Greg Sereda.

TOP ALCOHOL DRAGSTER
1) Mike Austin, Medford, Ore., 5.344 seconds, 265.01 mph
2) Shawn Cowie, Delta, B.C., 5.407, 262.23
3) Joey Severance, Woodburn, Ore., 5.421, 259.89
4) Bill Edwards Jr., Sumas, Wash., 5.635, 248.96
5) Greg Sereda, Spruce Grove, Alb., 5.702, 255.24
6) Dale Carlson, Olympia, Wash., 6.619, 156.90
7) Don St. Arnaud, Edmonton, Alb., 6.869, 123.37
8) Leo Grocock, Mission, B.C., 12.804, 57.34 Not Qualified
9) Ashley Bart, High River, Alb., 20.700, 27.07

First round TAD pairings
1) Mike Austin, Medford, Ore., 5.344 seconds, 265.01 mph vs.
8) Leo Grocock, Mission, B.C., 12.804, 57.34

2) Shawn Cowie, Delta, B.C., 5.407, 262.23 vs.
7) Don St. Arnaud, Edmonton, Alb., 6.869, 123.37

3) Joey Severance, Woodburn, Ore., 5.421, 259.89 vs.
6) Dale Carlson, Olympia, Wash., 6.619, 156.90

4) Bill Edwards Jr., Sumas, Wash., 5.635, 248.96 vs.
5) Greg Sereda, Spruce Grove, Alb., 5.702,
255.24

TOP ALCOHOL FUNNY CAR
1) Brian Hough, Junction City, Ore., '10 Monte Carlo, 5.616 seconds, 255.53 mph
2) Rob Atchison, London, Ont., '06 Monte Carlo, 5.810, 251.67
3) Nathan Sitko, Edmonton, Alb., '02 Camaro, 5.815, 243.37
4) John Evanchuk, Edmonton, Alb., '02 Firebird, 6.006, 243.30
5) Clint Thompson, Klamath Falls, Ore., '06 Monte Carlo, 6.278, 173.77
6) Jeff Ashwell, Keizer, Ore., '09 Mustang, 6.804, 183.37

First round TAFC pairings
1) Brian Hough, Junction City, Ore., '10 Monte Carlo, 5.616 seconds, 255.53 mph vs.
6) Jeff Ashwell, Keizer, Ore., '09 Mustang, 6.804, 183.37

2) Rob Atchison, London, Ont., '06 Monte Carlo, 5.810, 251.67 vs.
5) Clint Thompson, Klamath Falls, Ore., '06 Monte Carlo, 6.278, 173.77

3) Nathan Sitko, Edmonton, Alb., '02 Camaro, 5.815, 243.37 vs.
4) John Evanchuk, Edmonton, Alb., '02 Firebird, 6.006, 243.30

COMPETITION ELIMINATOR
1) Rob Harrison, N. Vancouver, B.C., '07 Cavalier, J/A, 7.612 seconds, -0.718 (under index)
2) Brandon Huhtala, Puyallup, Wash., '97 Cutlass, C/A, 7.315, -0.655
3) Phil Cocuzza, Acton, Calif., '10 Cobalt, A/SMA, 7.866, -0.654
4) Casey Plaizer, Edmonton, Alb., '04 Cavalier, C/SMA, 8.067, -0.643
5) Jeff Lane, North Bend, Wash., '09 Cobalt, B/SMA, 8.050, -0.620
6) Bob Marshall, Langley, B.C., '09 GXP, B/AA, 7.014, -0.606
7) Adam Bowdish, Oregon City, Ore., '89 Trans Am, H/SM, 8.955, -0.585
8) Aaron Strong, Auburn, Wash., '05 Cavalier, F/A, 8.048, -0.572
9) Howie Stevens, N. Vancouver, B.C., '09 Mustang, C/A, 7.409, -0.561
10) Pat Byron, Hoquiam, Wash., dragster, C/D, 6.858, -0.552

SUPER STOCK
1) Byron Setters, Red Deer, Alb., '09 G5, GT/BA, 9.195 seconds, -1.055 (under index)
2) Rick Paton, Edmonton, Alb., '02 Camaro, SS/AS, 8.616, -0.984
3) Jim Isherwood, Sumas, Wash., '67 Belvedere, SS/DA, 9.261, -0.939
4) Alan Falcone, Seattle, Wash., '91 Calais, GT/CA, 9.476, -0.924
5) Sean Cour, Brush Prairie, Wash., '09 Cobalt, GT/BA, 9.330, -0.920
6) Rick Pike, Langley, B.C., '56 Chevy, SS/NA, 11.262, -0.888
7) Tom Nolan, Lacombe, Alb., '09 G5, GT/AA, 9.212, -0.888
8) Casey Setters, Red Deer, Alb., '05 Cavalier, GT/BA, 9.402, -0.848
9) Mike Pruss, Red Deer, Alb., '01 Firebird, SS/IA, 9.871, -0.829
10) Cody Lane, North Bend, Wash., '98 Olds, SS/BS, 8.838, -0.812

STOCK ELIMINATOR
1) Sean Cour, Brush Prairie, Wash., '10 Mustang, A/SA, 9.795 seconds, -1.205 (under index)
2) Kelly Thomas, Auburn, Wash., '94 Ram, M/SA, 11.819, -1.031
3) Alf Wiebe, Chilliwack, B.C., '70 Buick, C/SA, 10.421, -0.979
4) Jim Mantle, Black Creek, B.C., '79 Pacer Wgn, V/SA, 14.543, -0.957
5) Will Kelly, Walla Walla, Wash., '70 Barracuda, H/SA, 11.201, -0.949
6) Pete Kost, Seattle, Wash., '77 Cutlass, K/SA, 11.731, -0.919
7) Angela Bushmaker, Auburn, Wash., '65 Valiant, K/SA, 11.733, -0.917
8) Andrew Wiebe, Langley, B.C., '72 Olds, E/SA, 10.801, -0.899
9) Larry Peterson, Eugene, Ore., '71 Chevelle, B/SA, 10.372, -0.878
10) Dallas Glenn, Kent, Wash., '96 Corvette, B/SA, 10.427, -0.823

TOP SPORTSMAN
1) Barry Daniluk, Red Deer, Alb., '68 Camaro, 6.544 seconds, 206.28 mph
2) Craig Olson, Camano Island, Wash., '07 Stratus, 6.630, 209.93
3) Mike Strickland, Moses Lake, Wash., '07 Mustang, 6.864, 202.65
4) Joe Loch, Renton, Wash., '04 Cavalier, 6.885, 201.56
5) Bob Israelson, Lynwood, Wash., '63 Corvette, 7.056, 198.10
6) Frank Nelson, Auburn, Wash., '05 Cavalier, 7.294, 191.28
7) Daryl Hemley, Burley, Wash., '02 Cavalier, 7.391, 187.42
8) Randy Johnson, Snohmish, Wash., '04 Cavalier, 7.427, 184.01
9) Spencer Martin, Anchorage, Alaska, '02 Cavalier, 7.509, 201.25
10) Garry Weslosky, Sherwood Park, Alb., '66 Chevy II, 7.540, 180.25

TOP DRAGSTER
1) Quentin Chambers, Bellingham, Wash., dragster, 6.242 seconds, 218.92 mph
2) Neil Lachelt, Kelowna, B.C., dragster, 6.529, 211.06
3) Craig Olson, Camano Island, Wash., dragster, 6.689, 205.38
4) Geordie Castle, Sherwood Park, Alb., dragster, 6.858, 195.90
5) Jim Pappas, Roseburg, Ore., dragster, 6.908, 195.31
6) Wes Garvin, Kennewick, Wash., '32 Bantam, 6.930, 191.12
7) Eddy Plaizier, Edmonton, Alb., dragster, 6.967, 191.36
8) Mike Henderson, Tacoma, Wash., dragster, 6.993, 190.27
9) Moe Trujillo, Happy Valley, Ore., dragster, 7.026, 191.57
10) Jon Riedel, Arlington, Wash., dragster, 7.077, 189.15

SPORTSMAN MOTORCYCLE
1) Kevin Brennan, Chilliwack, B.C., '92 Suzuki, SMC, 0.014 seconds reaction time
2) Jeff Havens, Yakima, Wash., '95 Suzuki, SMC, 0.015
3) Jan Cook, Kamloops, B.C., '75 Kawasaki, SMC, 0.027
4) Keith Newport, Chilliwack, B.C., '04 Kawasaki, SMC, 0.030
5) Jim Funderburg, Burien, Wash., '00 Kawasaki, SMC, 0.042
6) Brett Payne, Chilliwack, B.C., '82 Suzuki, SMC, 0.043
7) Jon Jenkins, Richmond, B.C., '80 Suzuki, SMC, 0.046
8) Miles Hauer, Seattle, Wash., '81 Suzuki, SMC, 0.202
9) Don Tempel, Chilliwack, B.C., '92 Suzuki, SMC, -0.076
---
---