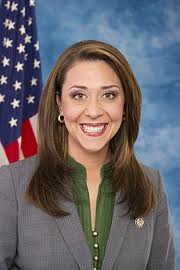 Communications Workers of America, one of the nation's largest labor unions, is attacking U.S. Rep. Jaime Herrera Beutler, R-Vancouver, for her vote last week to retain language in a massive Federal Aviation Administration reauthorization bill that treats workers who do not vote in union representation elections as "no" votes, reports The Columbian newspaper in Vancouver, Wash.
President Barack Obama has threatened to veto the bill if that language remains, saying it would undermine a fundamental principle of fairness in union representation elections. In a press release, the CWA points out that if the same principle applied in congressional elections, Herrera Beutler would have received only 28.6 percent of the vote last November instead of the 53 percent she won.
Herrera Beutler worked in Washington, D.C., as a senior legislative aide for U.S. Rep. Cathy McMorris Rodgers, R-Spokane, from 2005-07.
"Despite the bedrock democratic principles of fairness at stake, Rep. Jaime Herrera Beutler helped ensure that this egregious and unfair election provision remained in the larger FAA bill," the union said in a statement, noting that 16 Republicans joined Democrats in voting to strip the election provision from the larger bill. The amendment to strip the language failed on a 220-206 vote.