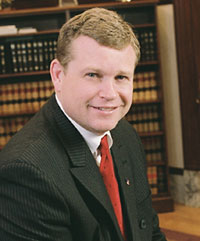 Idaho Attorney General Lawrence Wasden today released his annual Consumer Protection report for 2011. His office recovered a record $8 million in consumer restitution last year.
In addition, the Consumer Protection Division recovered $2.5 million in penalties, fees and costs; received more than $24 million from a tobacco settlement; and returned $1.5 million in unspent consumer protection money to the general fund.
"Our most significant work in 2011 was in two areas: mortgage foreclosure and pharmaceutical pricing," Wasden said in a news release.
Wasden said mortgage-related complaints decreased more than 120 percent last year. His office received 116 mortgage complaints for the year, down from 261 in 2010. Still, the mortgage category remained at number one on the Attorney General's top 10 consumer complaint list, in a tie with motor vehicles.
"This may be due to improvements in the federal Making Home Affordable Program, greater public awareness of mortgage modification options, a decrease in foreclosure filings during 2011, and the proactive steps that we have taken in the Attorney General's Office," Wasden said.