Mon., April 4, 2011, 11:15 a.m.
Hangman Creek flows ideal for weekend paddlers
RIVER RUNNING -- Seven canoeists wearing dry suits had a wet and wonderful trip Sunday on Hangman Creek.
We all agreed that a flow of 1,200 cfs was about as good as this trip would get," reported Dan Hansen. "I'm really glad I didn't try running it that day it was flowing at 3,400."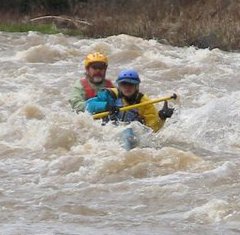 "Chris Haralam and I did some more scouting Saturday and felt humbled by a big series of waves about 1.5 miles below the (Qualchan) historic marker. So we moved Sunday's put-in to the Keevy Road bridge, which is the tail end of those rapids. Still, there was plenty of whitewater.
"It took us almost two hours to go the first two miles because we were doing so much scouting of routes. After that, it was smooth sailing, with quick water and rapids that quickened the pulse without being a real threat. And the canyon is beautiful.
"No one swam, but we all had to make frequent bailers."
---
---