Wed., April 20, 2011, 7:57 a.m.
'Rush Week' targets Panhandle's newest aquatic invader
INVASIVE SPECIES – Sandpoint-area residents are organizing this week to pounce on an new unwanted aquatic invader to Lake Pend Oreille.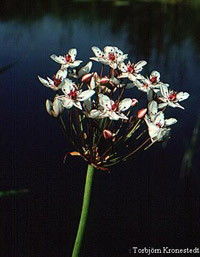 A public work party to stop the spread of flowering rush will begin Saturday, 1 p.m., at Sandpoint City Beach.
Like other aquatic invasive plants, flowering rush crowds out native vegetation and interferes with swimming and navigation. Yet, in some places, it's sold as a decorative plant.
According to the Bonner County Aquatic Invasive Species Task Force, the infestation is still at a manageable level, but the group is devoting the week to coordinating with school groups to tackle flowering rush infestations in Boyer slough, Denton Slough, Clark Fork Delta and Dover.
Read on for details.
"Every person who participates in this 'Rush Week' will be highly valued for their efforts to help stop the advance of this noxious weed," said Molly McCahon, Lak*A*Syst Coordinator.
The public is invited to pitch in at 1 p.m., Saturday, April 23, at City Beach. The weed and root wad must be dug up and removed to prevent spread. This is not a difficult task, but it can be muddy so participants should bring boots, gloves and shovels. Also, buckets no larger than 5 gallons are needed. The weed work party will be cancelled in the event of rain.
Sign-up and info: Bonner County Weed Department (208) 263-3175 or email lakescommission@gmail.com
---
---