Tue., April 26, 2011, 8:10 a.m.
Hikers plan scenic vacations around maintaining trails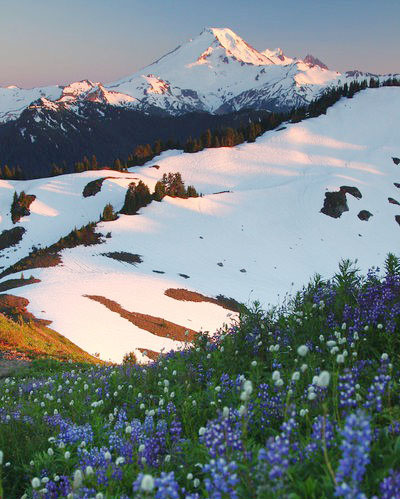 TRAILS -- The Salmo-Priest Wilderness is on the Washington Trails Association's list of 10 signature projects for trail construction and maintenance in 2011.
That means the little wilderness gem in northeastern Washington and a slice of North Idaho will be a destination for volunteers devoting some of their summer vacation to improving trails for all to enjoy.
If you're looking for a change of scenery, I highly recommend looking into the volunteer vacations set for the High Divide area near Mount Baker. Bring two pairs of socks on this trip, because your first pair will get knocked off when you see the views.
Read on for details:
Here are two of the 10 spotlight volunteer vacations projects in 2011 sponsored by the Washington Trails Association:
Location: Colville National Forest
Dates of Work: June and July
Types of Trip: One Volunteer Vacations and a BCRT
The Colville National Forest just may be the best kept secret in Washington. North and west of Spokane, it's a place where you can find great day hikes and long, fabulous backpacking trips with sweeping views and big sky. WTA will be working in two areas this summer. In June, WTA will be breaking ground with a new multi-use trail to the top of Gibraltar Mountain. Other crews will finish the work to WTA specifications. We'll also be back on the Salmo-Priest Loop in the Salmo-Priest Wilderness in July, with a Volunteer Vacation on the eastern part of the loop and a BCRT along the Shedroof Divide and near Snowy Top to the west.
>> Sign me up! WTA Trail Work Schedule
Location: Mount Baker Wilderness, Mount Baker - Snoqualmie National Forest
Dates of Work: July and August
Types of Trip: Two Volunteer Vacations and one BCRT
This is one of Washington's premiere hikes - resplendent with alpine wildflowers and stunning mountain views. "It's a gorgeous place that needs a lot of work," says Gary Paull of the US Forest Service. WTA Volunteer Vacation and BCRT crews will be taking on a chronic and dangerous problem area on a steep hillside, making the way safe for hikers.
>> WTA Trail Work Schedule
>> Hike it! Learn more in WTA's Hiking Guide
---
---