Thu., Feb. 10, 2011, 1:28 p.m.
Game wardens reality show fined for lack of forest permit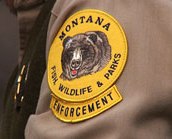 NATIONAL FORESTS – A reality TV show about Montana's game wardens has been fined $1,050 for not having a permit to film on federal land, according to a story in the Missoulian.
The videographer for Muddy Boot Productions followed Montana Fish, Wildlife and Parks wardens from state to federal land but didn't have the a permit to film commercially in national forests.
The permit requirement has been a sticking point for professional photographers who market images made on federal lands.
The company said the crossover into federal land happened spontaneously and they didn't know where they would end up.
The show, called "Wardens," follows wildlife enforcement officers day-to-day duties, including checking fishing and hunting licenses, monitoring people searching for antlers, and capturing and releasing rogue bears. It airs on the Outdoor Channel.
Click here to see film clips from the cable TV show that's making Montana game wardens famous.
---
---