Thu., Jan. 6, 2011, 4 p.m.
Oprah gives hunting positive ink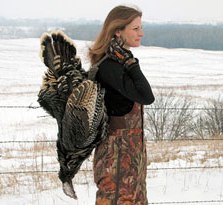 HUNTING MEDIA -- Stories about hunting are routine here in The Spokesman-Review's Outdoors coverage, but a hunting story in Oprah's O magazine is significant news.
The December issue of O includes an article by Kimberly Hiss, who detailed her challenges and emotions in deciding to bag her own wild turkey for the holiday dinner table.
"This is a really big step for hunting," said Brent Lawrence, public relations director for the National Wild Turkey Federation. "Many mainstream media outlets, particularly women's publications, shy away from positive hunting stories. This wonderful article gives a voice to millions of hunters and provides valuable insight to non-hunters."
"For every turkey wrap or club sandwich I'd ever eaten, something had been killed for my benefit - I'd just never done the killing myself," Hiss wrote. "The deer hunt invitation seemed an opportunity, a challenge even, to reclaim my place in the food chain by assuming responsibility for the meat on my plate."
Hiss, who endured cold and snow last December on the hunt near Kearney, Neb., used virtually every part of the bird. She made table decorations from the tail feathers and donated the remaining feathers to the NWTF's feather distribution program for Native American tribes.
To read the article, click here.
---
---