Thu., May 19, 2011, 12:20 p.m.
New fishing map book might be slightly stale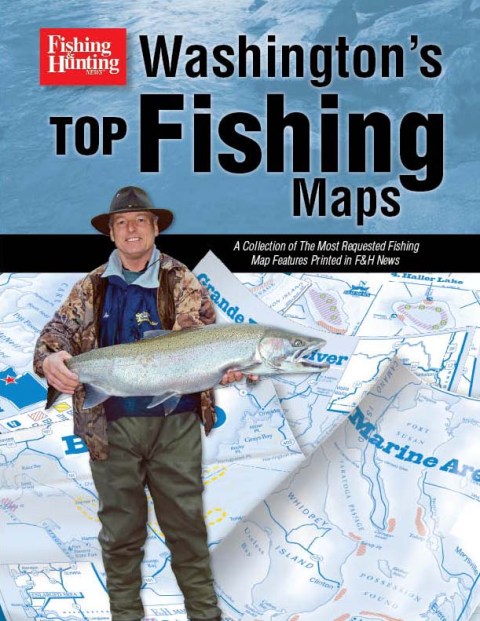 FISHING -- Portland-based Frank Amato Publications recently released a new booklet, "Washngton's Top Fishing Maps."
The large format booklet compiles many color maps and stories previoiusly published in the defunct Fishing & Hunting News tabloids.
But while he notes the publication is worth having, Scott Sandsberry of the Yakima Herald-Republic notes the maps and info in many cases are more than a decade old.
Read on for the rest of his column.
That doesn't mean I don't recommend "Washington Top Fishing Maps," which was just published this month by that most prolific of fishing publishing houses, Portland-based Frank Amato Publications. It's great-looking with full color photos and (even better) maps; it's got a professional, glossy look; and the information in it was written by a lot of outstanding outdoors writers who have way, WAY more expertise than I do about what to fish for, where and how.
The buyers-beware aspect here is the "when" part. And the book is a bit sketchy on that.
On the cover of this soft-cover but quite attractive book, there's a blurb announced that it's "A Collection of The Most Requested Fishing Map Features Printed in F&H News," a reference to the now-defunct Washington Fishing & Hunting News. But beyond our general understanding that, well, F&H isn't around anymore so these things aren't brand-spankin' new, the book doesn't mention that many of these articles were written quite a few years ago.
I called Andy Walgamott, formerly an editor at F&H News who now oversees Northwest Sportsman Magazine, to get a little info on the book. I figured he'd have some, since he's got a couple of columns in the book, including one about trout fishing in the Alpine Lakes Wilderness. He knew nothing whatsoever about the book, and said he thought he'd written the Alpine Lakes column "back in, I don't know, 2001 or somewhere around there."
There are also lots of columns by Dusty Routh, a very popular and knowledgeable outdoors writer and photographer at F&H News — right up until he died of a heart attack nearly four and a half years ago. There are pieces by Jim Pearson and Rob Phillips, each of whom had columns that long predated my arriving in Yakima, and lots of columns by other well-respected outdoorsmen like Leroy Ledeboer and Joel Shangle.
But how long ago were they written? The book doesn't say. The publishers were simply able to obtain the rights to a lot of old F&H columns from whoever retained or bought those rights when F&H sadly disappeared from the Washington outdoor-recreation landscape.
I wouldn't be surprised if a lot of the guides referenced on the books nearly 270 pages have changed phone numbers or gone out of business. I know the fishing regs have changed over the years, and if there are many columns as old as Walgamott's decade-old piece, well, hatchery operations have certainly changed the fishing possibilities at a lot of Washington waterways in that period of time.
Does that mean you shouldn't buy the book? Well, no. It has a $29.95 list price, which I would consider a bargain if the information was all up-to-date. And it's on sale at Costco, which means a ton of these books will be sold. If one hadn't already been sent to me here at the office, I probably would have gone out and bought one, because, as I say, the guys whose wisdom is reflected on the book's pages know a lot more about fishing than I do.
Then I would have found myself wishing I'd known how outdated some of this wisdom might well be.
And I think its readers would have better served to know what their 30 bucks was going for.
---
---