850 riders signed up for 24 Hours bike race
MOUNTAIN BIKING -- A record 850 racers -- solo and team relay riders -- have signed up so far for this weekend's 24 Hours Round the Clock mountain bike race in the Seven Mile airstrip area of Riverside State Park.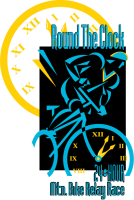 That means three or four times that many people will be camping out for the fat-tire overnight feast, party and spectacle, says organizer Wendy Zupan-Bailey of Round and Round Productions.
Participant Joe Geigle of the Spokane Mountaineers said it's difficult to sleep even for the relay team riders who have 4.5 hours of rest between laps.
I"t's not just a race, it's an event, a party, a sleepover," said co-organizer Gino Lisiecki in a story I wrote earlier this month. "You have all of those racers, and they bring 3,000 of their friends for the campout. It's a staycation for a lot of people.
"It's huge," Zupan-Bailey said.
"It's the Woodstock of mountain biking," Lisiecki said.
---
---