RIVERS — The 2012 Toyota Weaver Seed World Jet Boat Championship races got their start on the St. Joe River last weekend. Promoters say about 5,000 people were spread along miles of river to watch the boats roar by.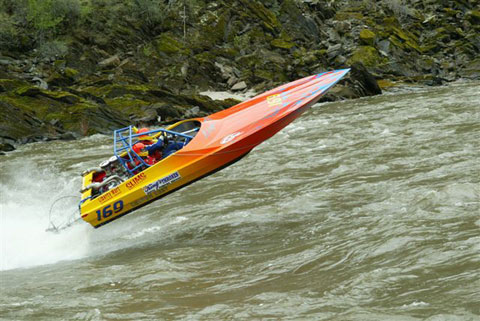 The S-R had a story today documenting the economic activity the two days of racing encouraged in St. Maries.
Community celebrations and races take place over a nine-day period.
Read on for the racing schedule next week on the Snake river based out of Lewiston, and the following weekend on the Salmon River based out of Riggins.
WORLD JET BOAT RACING SCHEDULE, weeks 2 and 3:
Sunday April 15, 2012
St. Maries, Idaho—St. Joe River (staging/hot pits at Aqua Park)
10:00 a.m. St. Joe River, course TBD.
Monday April 16, 2012
Lewiston, Idaho—Snake River—Class I-II River
10:00 a.m. Hells Gate Marina to Bear Bar—27 miles
11:30 a.m. Bear Bar to Hells Gate Marina—27 miles
2:00 p.m. Hells Gate Marina to Bear Bar—27 miles
3:30 p.m. Bear Bar to Hells Gate Marina—27 miles
5:00 p.m. –LEWISTON, ID: "Show & Shine Boat Show" at Clearwater River Casino followed by Northwest River Runners Banquet & Auction
Tuesday, April 17, 2012
Lewiston, Idaho—Snake River—Class I-II River
9:00 a.m. Hells Gate Marina to Bear Bar—27 miles
10:30 a.m. Bear Bar to Hells Gate Marina—27 miles
1:00 p.m. Hells Gate Marina to Bear Bar—27 miles
2:30 p.m. Bear Bar to Hells Gate Marina—27 miles
6:00 p.m.—OROFINO, ID: Welcome Celebration & "Show & Shine Boat Show" at Orofino City Park
Wednesday, April 18, 2012
Orofino, Idaho—Clearwater River—Class I-II River
10:00 a.m. Orofino to Lewiston—47 miles
2:00 p.m. Lewiston to Orofino—47 miles
Thursday April 19, 2012
MANDATORY DAY OFF RACING
6:00 p.m. MT, Welcome BBQ/Boat Show & Shine, Best Western Salmon Rapids Lodge at Riggins
Friday April 20, 2012
Riggins, Idaho—Salmon River—Class II-III River
9:00 a.m. MT LEG 1—Island Bar to Lightning Creek—8 miles
LEG 2—Lightning Creek to Island Bar—8 miles
LUNCH BREAK
1:00 p.m.—LEG 3—Island Bar to Lightning Creek
LEG 4—Lightning Creek to Island Bar
LEG 5—Island Bar to Lightning Creek
LEG 6—Lightning Creek to Island Bar
Saturday April 21, 2012
Riggins, Idaho—Salmon River—
9:00 a.m. MT, Island Bar to Lightning Creek
Salmon River Race course—4 legs conducted this day with NO midday break –32 miles
Riggins, Idaho—Awards Banquet
6: 00 p.m. Cocktails
7:00 p.m. Dinner & Awards presentation