Tue., Aug. 28, 2012, 8:02 a.m.
Where they're biting: Latest Idaho fishing reports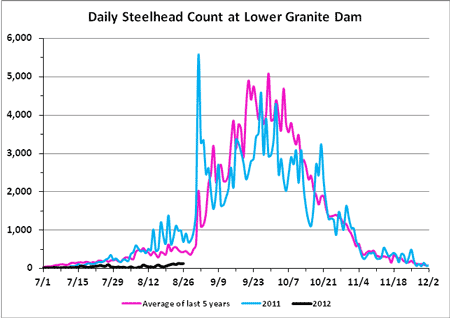 FISHING -- According to last year and the averages from recent years, anglers can soon expect a spike of steelhead to start pouring over Lower Granite Dam and up the Snake River into Idaho. I mean any day. Get ready.
But the action wasn't heavy yet on Monday morning at the mouth of the Clearwater River at Lewiston.
A fishing friend who was there filed this report:
20 boats and 11 shore fishers. 5 salmon caught and 1 steelhead kept. I got one of the salmon. A jack.
Clearwater temp at the RR bridge was 50.3 at 0430 and 50.8 at 11AM.
I fished from early till 1430.
Meanwhile, here' s the latest Idaho Fish and Game Department report of highlights from the Idaho Panhandle:
Lake Coeur d'Alene: Kokanee are becoming more abundant and smallmouth bass are going strong on the lake. Anglers recommend trolling for the kokanee but smallmouth are holding near the shoreline—try twin-tailed grubs or tube jigs to entice the smallmouth. Look for Kokanee in the Arrow Point area in the north of the lake; in the south end try Powder Horn Bay. Most of the kokanee are 35-45 feet down. Pike are sticking around the bays on the lake. Spinnerbaits, spoons and husky jerks are attracting the pike.
Fernan Lake: The Panhandle Health District lifted the health advisory on Hayden Lake on August 23. The lake is safe again for fishing and swimming. Bass in the lake will stay deeper during the day, but you can use surface lures in the evening.
Coeur d'Alene River and St. Joe River: Fish these rivers with dry flies such as hoppers, beetles and ant patterns which have been effective on both rivers. You are more likely to find fish in the tailouts with the cooler temps on the St. Joe River.
The Clark Fork River is also a good option for the next couple of weeks now that temps have dropped…bugs will be moving again.
The chain lakes have been very good for pike and bass
Hauser, Cocolalla and Fernan lakes have also been good fishing for crappie, pike, bass and trout.
---
---