Wed., July 18, 2012, 10:31 a.m.
RIP: Hardy Kruse, local fly fishing purveyor
FISHING -- Hardy Kruse of Spokane, who ran one of Spokane's first fishing shops with a special corner for fly fishers, is the latest of several notable angling personalities to drift out of this world in recent weeks.
Kruse, 85, died Sunday after a long illness. No public service is planned, according to close friend Stephen Aspinwall.
Long-time anglers will remember The Sport Cove, which Kruse operated in the Spokane Valley at the Two Swabbies for 30 years before closing the doors at the age of 75.
I still have the diver's swim fins Hardy hand rigged with straps to help anglers propel float tubes when they became the rage in the 1980s. "You'll spend three times as much for fins made for use with float tubes and they'll work half as well," he told me.
I tried them out with Hardy for a story about float-tubing in a fine day of fishing at Bayley Lake (see photo), which was one of Hardy's favorite waters for big brook trout and rainbows at that time. He also loved fishing the Bow River near Calgary.
Other notable anglers passing in recent weeks include: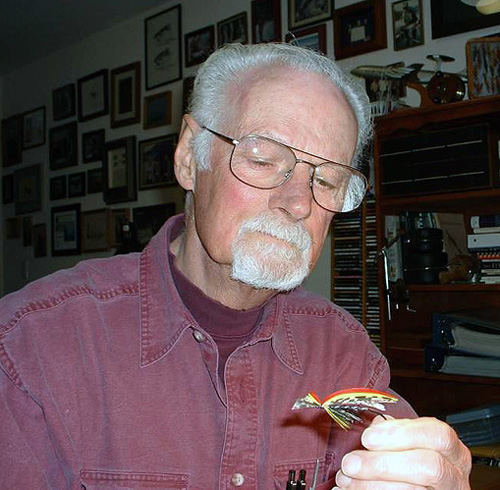 Harry Lemire: A Boeing worker who became a standout in fly tying and steelhead and salmon fly fishing circles for his exquisite hand-tied flies -- and I really do mean hand-tied.
Lemire said he succeeded in tying a fly without the help of a vise in 1991. "I found it very possible, practical and rewarding," he wrote. "From that day to this I've never used a vice when tying classic patterns and see no reason to."
Another Lemire quote: "I've caught steelhead up to 34 pounds on a skating fly and up to 23 pounds on a dry fly. My life, I would say, has been good."
Homer Circle: A southern gentleman, angler and author known to fans as "Uncle Homer" as he informed anglers for 50 years in Sports Afield and Field & Stream magazines. He passed away June 26 at the age of 97.
---
---