Tue., June 26, 2012, 8:37 a.m.
Catching huge cutthroats is kid stuff at Badger Lake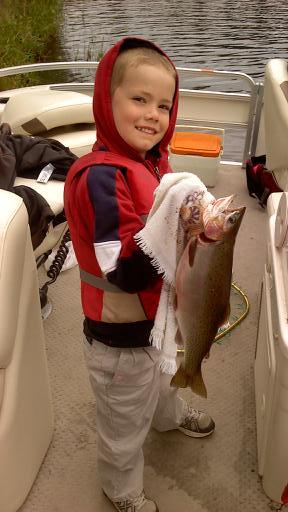 FISHING -- Cool, wet weather has kept area lake fisheries alive into summer for local anglers.

While some fishermen give up on area fishing lakes in spring after the first few fast-action weeks of the season, others are finding more at the lakes than just the peace and quiet.

Luke Marcellus, 5, shares a little bit of his weekend action in this photo. Check out the quality of that cutthroat from Badger Lake. It measured 22.5 inches long, and it's fat as a corn-fed sow!

"There were three of us bottom fishing at Badger Lake," said Jared Marcellus, who spoke so proudly of the fishing day, it was clear without asking that he's Luke's dad.

"It took 3 hours, but we limited; mostly small rainbows with one larger rainbow and the big cutthroat pictured with Luke."

"He is quite the fisherman for a 5 year old! I probably wouldn't have gone Saturday without his request."
We should all be so lucky as to have that motivation.
---
---