Thu., March 1, 2012, 8:08 a.m.
Geoduck winning protection; next — state bird?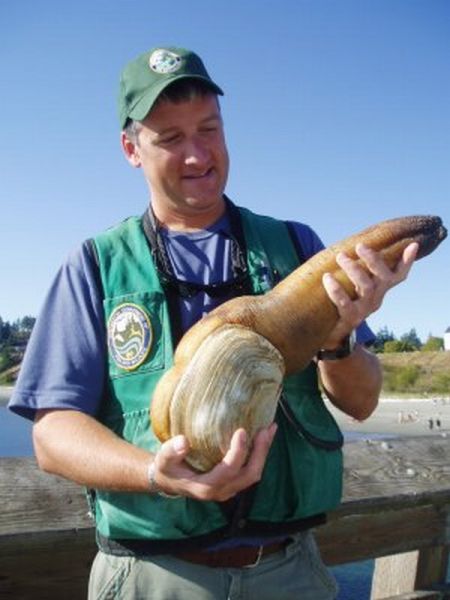 SHELLFISH -- Just kidding with the headline. I know the difference between clams and waterfowl.
But for a long time, it seems, ducks have had more protection than the great goeduck of Washington's beaches.
Numbers of the largest, oldest and most bizarre-looking wild clam species in the state have been going downhill, says the Washington Department of Fish and Wildlife.
"Geoduck poaching is particularly damaging because the species grows slowly over a long period," said WDFW director Phil Anderson.
The delicacy is the largest burrow clam species in the world and has been recorded as living as long as 146 years.
WDFW and the Department of Natural Resources announced this week in a joint statement that they will undertake new efforts aimed at "preventing poaching, evaluating environmental factors that may be contributing to the decline, seeking legislative budget support for additional field enforcement and reviewing harvest regulations."
The key may be whether they get the $500,000 they're requesting for increased enforcement.
The goeduck can grow up to two pounds by the time it is five years old. The ones that live into their 100s can reach 10 pounds and fetch $160 per pound on the retail market.

---
---