Tue., March 13, 2012, 4:48 p.m.
Mystery critter mugs on wolverine study trail cam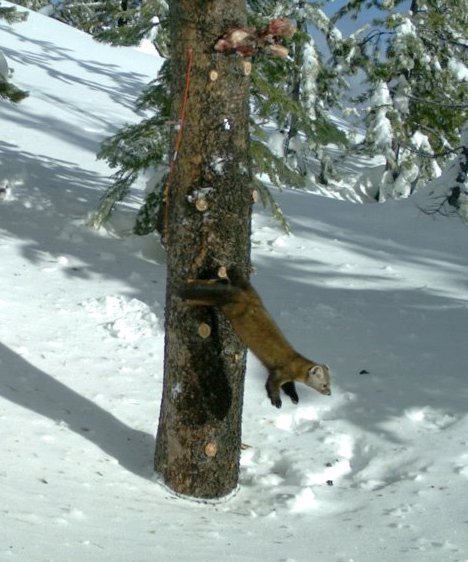 WILDLIFE WATCHING -- Can you ID the critter, above, in this close encounter last week with one of the wolverine research project trail cams in the Cabinet Mountains?
The camera is one of about 40 installed by the Friends of the Scotchman Peaks Wilderness.
Answer coming later...
It's easier to identify the marten, left, that provided this cool action image for a trail cam posted on a bait station at high elevations in the wolverine research project.
Some of the responses on my Facebook Page regarding the mystery critter above are close, but NOBODY in that thread is correct, yet.
Hints:
--The camera is in a tree up off the ground.
--The mountains have had some snow and wind.
--Bigfoot has NEVER been caught on camera.
--Some critters resemble others but have significant differences....
Answer and photo proof coming tomorrow from Friends of the Scotchman Peaks Wilderness.
---
---