Fri., March 16, 2012, 9:28 p.m.
Iron-dogging the Iditarod Trail:
Diary, days 11-12
SNOWMOBILING -- Chilled but not chilled out, Bob Jones of Kettle Falls and Josh Rindal of Spokane contginued their snowmobile trek along the Iditarod Trail even though the Iditarod sled dog race is is over and the winners have packed up for home.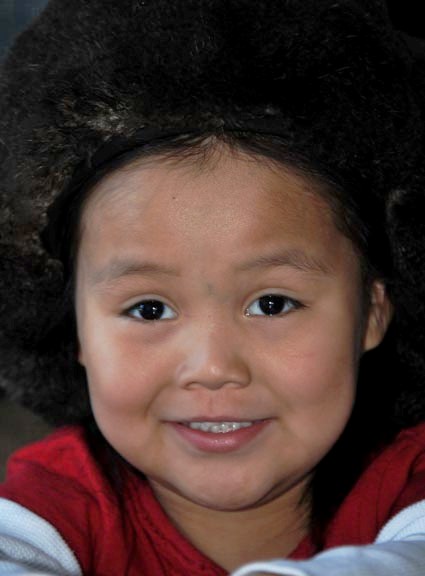 "Zero degrees here last night with nary a cloud in the sky. The most perfect day for traveling imaginable," Jones said, indicating he was happy to still be on the trail.
"The sun is getting some power and sometimes we can feel the heat through our thick clothing.
"Machines are running fine and things are going great!"
On days 11 and 12 they continued to enjoy hospitality from natives with only a few stressful encounters with deep snow in the arctic cold.
Read on for more of Jones's diary and photos.
Also: click here to see a continuously updated photo gallery of the Iditarod Sled Dog Race.
Tuesday, March 13, 2012
Day 11. +10º, Wild Iris B&B in Ruby
It warmed up considerably during the night and at daylight it looked like an overcast sky could be the reason. Overcast skies could mean the dreaded flat-light on the Yukon. But by 11am it has cleared up……I was going to say 'burned off'…..but not much burns off at these temperatures.
Ruby is a scenic little village sitting on a steep hillside above the Yukon River. Fish wheels, awaiting the summer runs of salmon, line the banks above the ice-break-up areas along the river. It is a unique little place and everyone is super friendly.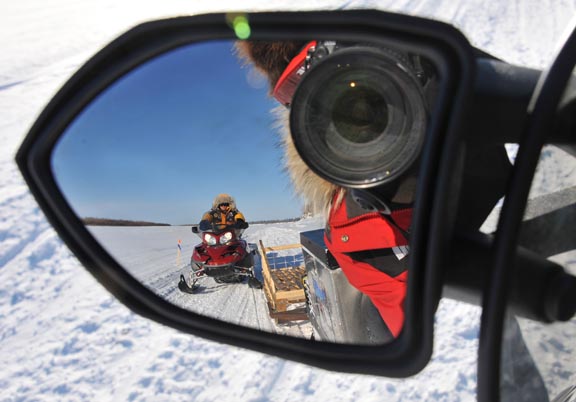 We had a fine breakfast and I caught up with the electronic messages home. Our little cabin has internet and, as I sit writing this, the early morning sun is shining through the south-facing window and is casting some real solar power onto my back. The days are getting longer and soon the heat of the long, sunny days will melt the tremendous snows of 2012 and bring some relief to this country. Hopefully there will be some moose left to share in this relief.
I planned on stopping to talk to Billy McCarty regarding his making me a dog-sled using birch and babiche. We were at the Post Office when Iditarod champ Emmit Peters walked in. Jim Knight and I had used bailing wire and pliers to repair his dog sled at the Post River Glacier many years ago and he was quick to remember it. He had Josh and I wait until he ran home to get some postcards that he kindly autographed for each of us. He also told us that Billy was in Fairbanks.
We hit the ice of the Mighty Yukon at 2:20pm and flew the fifty miles to Galena. The river is up to a mile with and the powder snow is deep. Travelers between Ruby and Galena have kept to the well-defined, 6-foot wide shelf of crusted snow that is the trail. Those who have fallen off have had their share of difficulty getting back on. We made the 52-mile run in two hours and twenty minutes.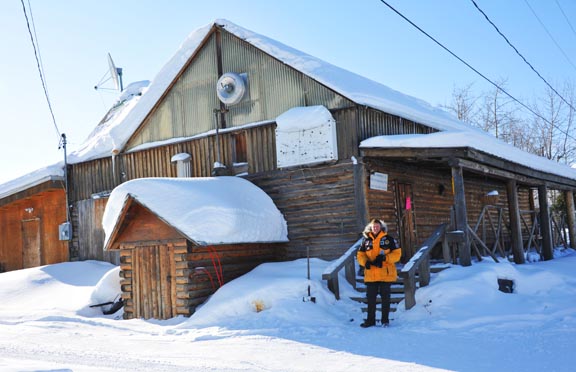 Our first stop in Galena was right in front of Archie's Yukon Inn. My mouth had been watering for a greasy cheeseburger and a cold Miller all morning. But, lo and behold, we found the door locked! We soon learned that this classic Alaskan bar had been shut down all winter. Damn!
It was about zero on the river and the wind had picked up. We needed to warm up and to put on one more layer of clothes.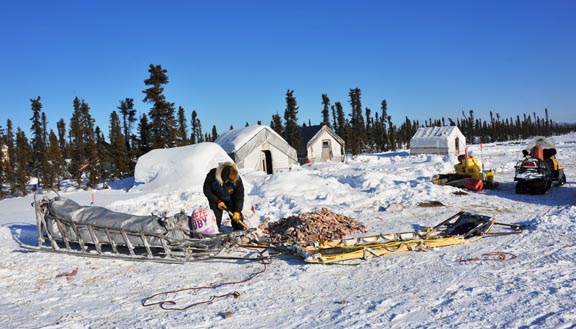 So we went into the local store. When I walked in and the cashier looked at me and asked "are you Bob Jones?". She called a phone number and soon had Gilbert Huntington on the other end. I didn't have a clue until he told me that he was the native who had been loading discarded dog food at the Cripple Checkpoint. We had had a quick visit at Cripple and I took a couple of pictures of him. No names were exchanged. To me the most impressive thing to come out of our meeting was that he was making a one-day, 280-mile round trip, alone, to salvage that dog food. And on the return trip he would be towing not one, but two, heavily-loaded sleds.
In a few minutes he showed up at the store. He asked me if I could tow a sled from Galena to Kaltag for him. When I said "Sure!" he went for the sled. Minutes later he drove up with a beautiful wooden dog sled that he had made. He wanted it delivered to Justin Esmailka in Kaltag, about ninety miles up the trail. I told him we would deliver it tomorrow after spending the night in Nulato.
We rode out at 5:50pm and ran the 48 miles to Nulato in only two hours on a perfect trail. There were two mushers and a handful of volunteers at the Checkpoint. One of the local natives remembered when I gave out Sacajawea silver dollars a few years back, and he produced a bag of smoked salmon strips for us as a return gift. Then he jumped on the back of my sled and proceeded to show us to our camp for the night, the local bed and breakfast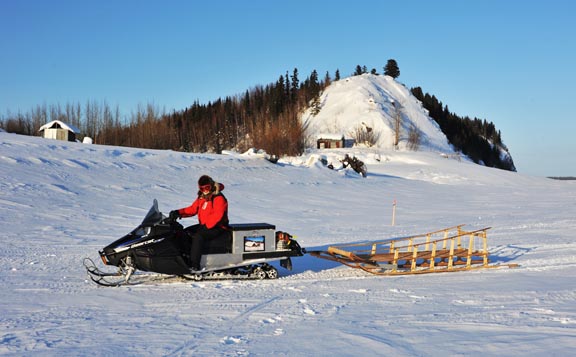 The owner was out of town and had us scheduled for tomorrow night. But a quick phone call got us all fixed up. We moved in.
Wednesday, March 14, 2012
Day 12. Zeroº, Nulato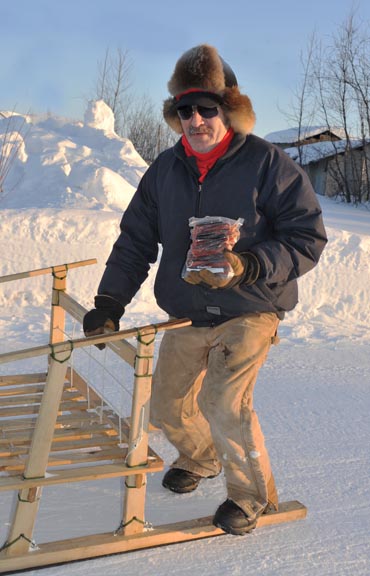 Our B&B hostess had us on her schedule for tonight instead of last night, but it wasn't any problem. She had a house-sitter to keep the fire going and that got us inside. I got the one bed in the bedroom and Josh got a mattress on the floor in the hallway. It was cool, quiet and there was high-speed wireless. Could we have asked for more?
There isn't a cloud in the blue northern sky this morning and the temperature is Zero. Traveling weather can't get any better than that.
Josh and I are going to delay making a decision regarding a return trip by snow machine until we see of we make it to Nome. Riding back to McGrath might be an option… It's an easy place to freight machines from, and Pen Air has a flight to Anchorage every morning. And it would add about 700 miles to our ride... Stay tuned.
We fueled up to the tune of $6 a gallon and rode out onto the wide Yukon at 1:20pm. A stiff breeze had caused some cross-drifting but the trail was still in good shape. We were still careful to keep on the packed trail rather that off into the powder on either side.
About five miles south of Kaltag our great ride changed into a flat-light nightmare. We had ridden north and under an overhead cloud cover that blocked the sunlight and the trail all but disappeared. I was in the lead and had to stop as the trail went into a side slough. Josh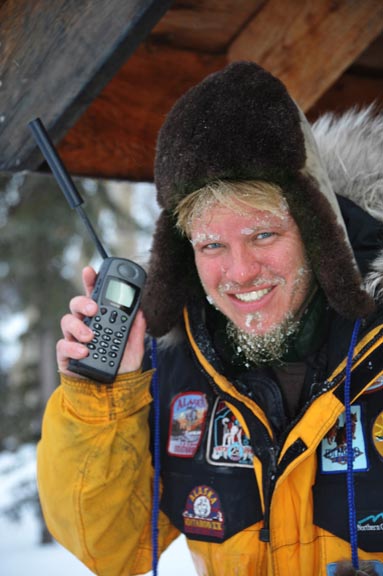 caught up and walked the trail ahead as I followed until the faint trace came back into focus. Without the benefit of the trail stakes we would have had to wait until dark to proceed. We crept along and finally rode into Kaltag at 3:40pm after a 36-mile run.
There were two mushers just getting ready to depart when we rode in. The wind kept getting stronger and it was almost impossible to ride around the village with any degree of vision. A big woodstove was keeping the abandoned checkpoint mushers cabin warm, and there was a giant pot hot coffee handy. And on the stove was a big kettle of the best moose stew you could ever hope to find. One of the old- natives of Kaltag came by and made sure we took advantage of both.
We stayed at the checkpoint until about 8pm and then rode to Lawrence Saunders log home. He is an old pal and we have exchanged gifts over the years. He always has a big package of smoked salmon strips for us to take along.
He invited us in and got us each a coffee. We spent until 9:30pm visiting and waiting for it to get dark enough for us to travel. The only thing good about flat-light is that you can beat it by waiting for darkness. Then the headlights take over and the trail becomes easy to ride again.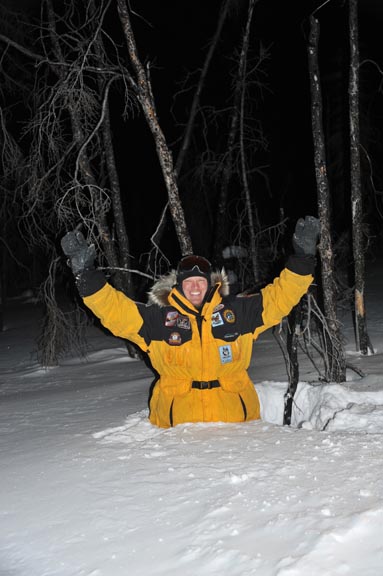 We rode the 28 miles from Kaltag to the Tripod Flats BLM Cabin. It took us two hours and twenty minutes, including a short break to saw down a dead wood tree beside the trail. I asked Josh to check the snow condition and he stepped into oblivion right adjacent to the trail. He went in up to his waist. All the way from Knik to Tripod the story was the same: Deep powder all the way. If you got one ski off the packed trail you would get sucked in. Sometimes a machine can actually flip over when one ski goes off.
We got into my favorite place on the entire Iditarod Trail at 11:50pm. A thermometer indicated +7º inside the cabin. When we stayed here last year I left a not on the table that told of the stove-pipe cap being plugged up. We tried but couldn't get up on the roof then. But tonight was a different story. The snow was so deep that Josh could get almost up to the eave on the snow. From there he climbed a tree and stepped into 4-feet of snow on the roof. He did it so quickly I wasn't aware he was up there. He removed the tar-packed stovepipe cover and jumped off. I had a fire going and it was instantly noticeable that the draft problem was solved.
By 12:30am we had sawed up the wood tree we had brought in, had heated water for dinner on my MSR Dragonfly stove, had eaten, and had the cabin all warmed up with a fire in the great little cabin stove. We fooled around and worked on our diaries until 2am.
The sky had cleared up and the wind quit soon after we left Kaltag, and it became a perfect night for a ride. The thermometer on a tree outside the cabin window read minus 10º when we turned in.
Continue to Diary and photos for days 13-14.
Continue to Nome Sweet Nome: Diary and photos for Day 15.
Continue to Diary and photos for days 16-17.
Go back to Diary and photos, days 1-6.
Go back to Diary and photos for days 7-10.
---
---