MONDAY, MARCH 19, 2012, 5:53 P.M.
Iron-dogging the Iditarod Trail:
Nome Sweet Nome! Diary, day 15
SNOWMOBILING -- After 15 days of mostly below-zero temperatures and 1,100 miles of Iditarod Trail that did-in one of their snowmobiles, Bob Jones of Kettle Falls and Josh Rindal of Spokane finally arrived in Nome, Alaska, on Sunday afternoon -- in time to celebrate with the sled dog mushers at their race-end bandquet.
They had to negotiate a notoriously dangerous stretch of wind-blown ice and scoot into town running on fumes for lack of fuel, but ohhhh what a reception: They got in the food line to a winner's banquet of prime rib, halibut and a dog sled full of fresh strawberries, for starters.
But while Bob and Josh recuperate a day or two in Nome, their expedition isn't quite over. Click "continue reading" as Jones explains in his Diary and photos.
Also: click here to see a photo gallery of the Iditarod Sled Dog Race.
Sunday, March 18, 2012
Day 15. -9º, Village School in Golovin
We made it to the end of the Iditarod Trail in Nome today! Now I'm back in Golovin recapping a great adventure -- that's not quite over.
We got up early and I took advantage of the fantastic wireless situation at the school to send out emails and photos. It was blazing fast.
It seems to take a long time to get ready to ride in the mornings. Part of the reason is that it is still dark at 8 or 8:30am. And it is the coldest part of the day. The machines were a little reluctant to start due to the cold.
Our planned departure time of 10am turned into 11am, and we rode out. I left a "thank you" note, along with the keys to the school, on a table in the library.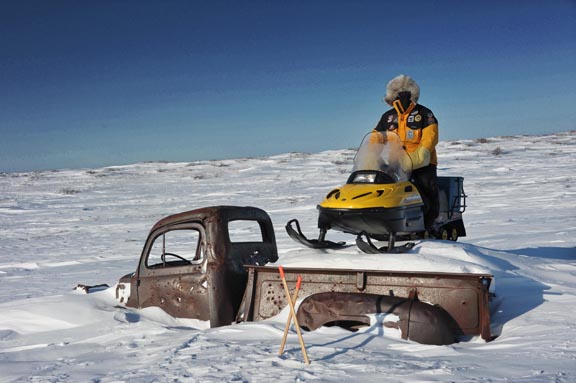 The sun was low and at our backs as we rode north. The strong winds of last night had mostly let up. We zoomed across Golovin Bay and ran the 16 miles to White Mountain in jig time. We rode up to the gas pump and found a 'closed Sunday' sign. Oh Oh! We were carrying some fuel, but not much. Joshes machine only has an 8-gallon tank and the fuel mileage from Unalakleet to Koyuk was right at eleven mpg. It is 70 miles from White Mountain to Nome. Josh was OK. He should have a range of 88 miles. My machine was another story……..We poured the remaining two gallons of fuel into it and some calculations showed that I would be running on fumes into Nome IF I got that far.
The trail out of White Mountain was a dream for about ten miles and we made great time. The trail through the fifteen miles of the Topkok Hills was wind blown and rougher. We made the twenty-five miles to the Topkok Shelter Cabin in an hour and fifteen minutes and took a break there.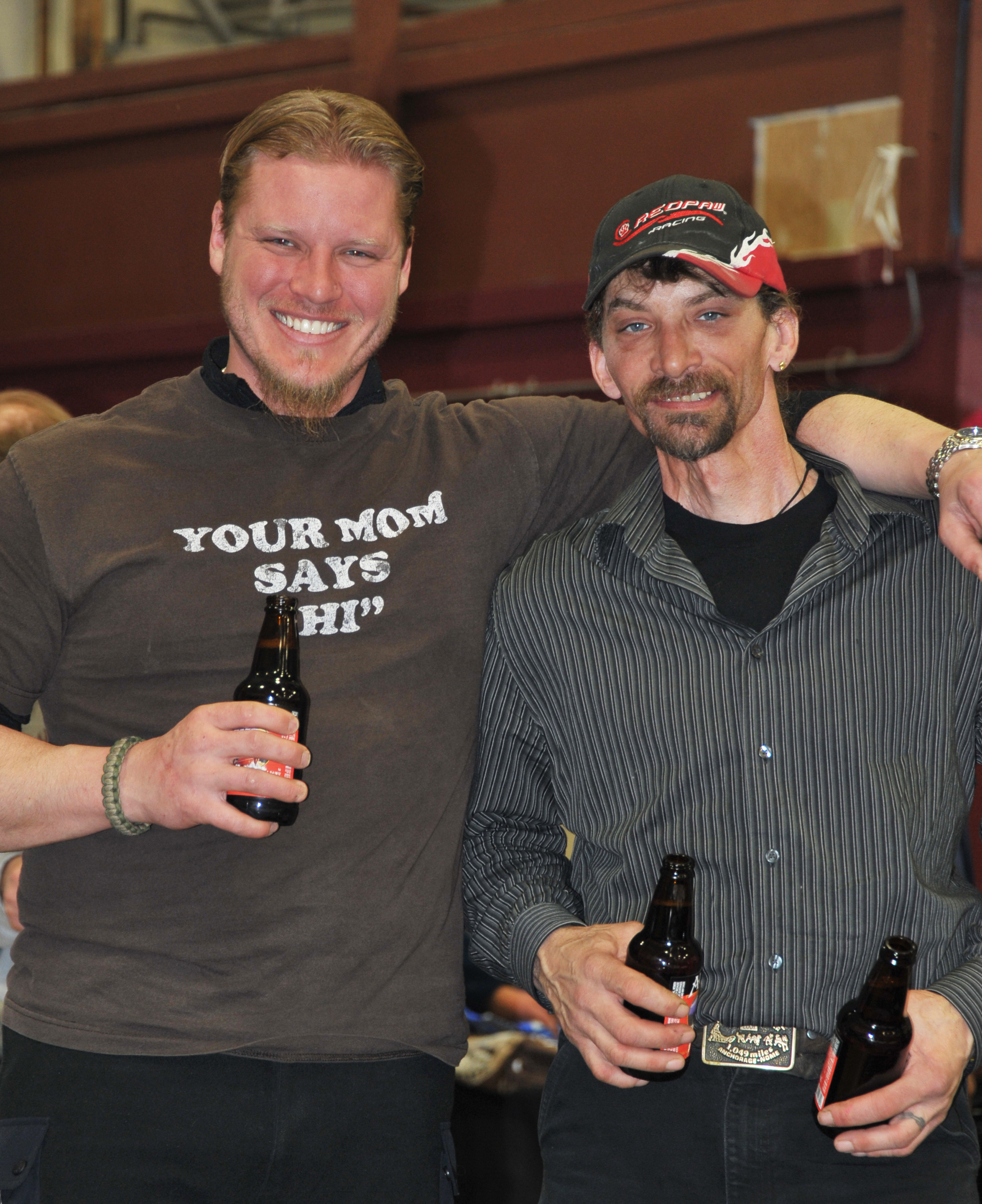 From the Topkok Shelter Cabin the Iditarod Trail runs down the ocean beach for 45 miles and into Nome. The first twenty-five mile area is known as the dreaded 'Topkok Blow-Hole". The winds from the north blow at a ninety-degree angle to the trail and they can be fierce. Terry Boyle told me of a time he was stranded at the shelter cabin and could not proceed north into a storm. Travelers from the south kept piling up there, and soon there were seventeen people taking shelter in a cabin that is only 12 x 18 feet. That storm lasted the better part of week! I commented that there had been standing room only in the cabin. Body heat probably kept the cold at bay. The Topkok Blow Hole has claimed the life on numerous snow machiners over the years.
Josh and I bundled up and headed north on the trail. We encountered long stretches of bare ice running where the wind had blown the snow off the water along the north side of the long spit. The wind got stronger and stronger, and soon there was much snow blowing laterally from north to south. You could close your eyes and the cold seeping into your clothing would clearly tell you the direction from which the wind came.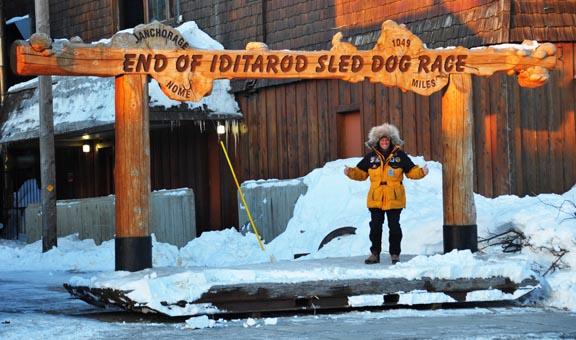 It was slow going through the first fifteen miles. The trail had long, bare sections with much driftwood on the trail. But, as we proceeded north, the blowhole slowly loses its power. The trail gets steadily better, and soon we were on a summer road along the beach. By the time we arrived in Safety we knew we were going to make Nome in time for the Musher's Banquet.
Nome Sweet Nome. That's what the sign at the edge of town says. But until you have ridden into town over the eleven hundred miles of the Iditarod Trail, the sign just sounds cute. To us it meant it! NOME SWEET NOME! We had made it!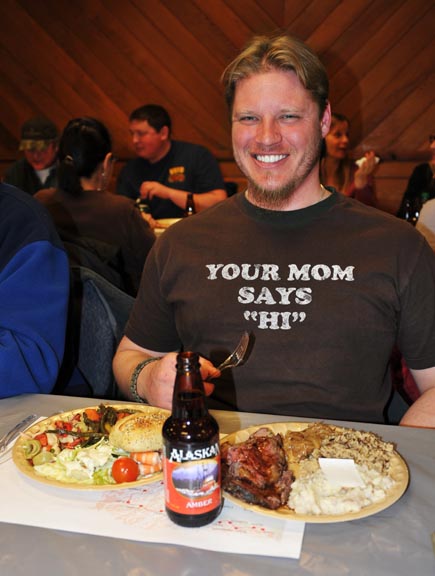 The streets were mostly bare as we worked our way to the Aurora Hotel. I walked up to the reservations desk at exactly 4pm. Our room was ready, and we quickly moved in.
We slipped into some fresh clothes and headed for the banquet. We got there and found the food line short. Prime rib, halibut, and a dogsled full of fresh strawberries started things out. The mushers were getting their awards on the stage as we ate and it was great entertainment.
After dinner I got pictures of Josh with DeeDee Jonroe, four-time Iditarod winner Lance Mackey, and the now-famous twin sisters of mushing.
We rode back to our room at 10pm. It was -7º.
We had made it to our destination of Nome, but our little adventure won't be over until we double back 250 miles to return Joshes borrowed machine to Unalakleet.
Go back to Diary and photos, days 1-6.
Go back to Diary and photos for days 7-10.
Go back to Diary and photos for days 11-12.
Go back to Diary and photos for days 13-14.
Continue to Diary and photos for days 16-17.
---
---