Wed., March 21, 2012, 12:32 p.m.
Iron-dogging the Iditarod Trail:
Last leg of Trip: Diary, days 16-17
SNOWMOBILING -- After celebrating their 1,100-mile snowmobile trip on the Iditarod Trail behind the Iditarod Sled Dog Race at two post-event banquets with dog mushers in Nome, Bob Jones and Josh Rindal are getting back in the saddle for a two-day, 250-mile trip backtracking to Unalakleet to return a borrowed snowmobile.
The video (above) is a clip from Tuesday's KHQ-TV interview regarding my blog on the intrepid irondoggers.
It's just one more leg of their adventure: two more days of traveling in bitter cold and camping in drafty trail cabins. Are they about done in? No. Jones said he wishes he could be starting all over.
"Spring makes fantastic snowmobiling in Alaska," he said, "Even at 20 below."
Read on for Jones's Iditarod diary for days 16-17.
Tuesday, March 20, 2012
Day 17. -20º, Aurora Inn – Nome
We've been celebrating with Nome locals and Iditarod dog mushers for the past couple days, first at the Mushers Awards Banquet, then the Red Lantern Banquet. They're a fascinating bunch of people to engage in conversation.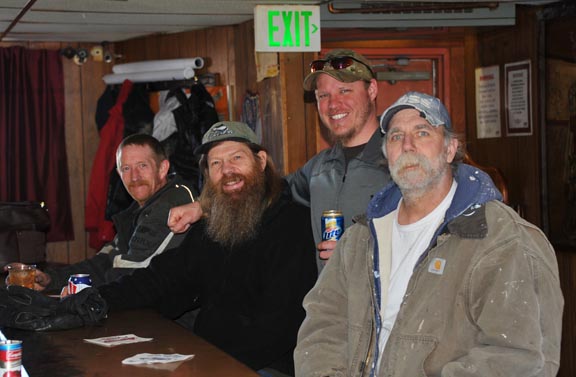 Last night, we slept close to ten hours and then took a taxi to the Polar Café for breakfast. It was cold outside as we walked back to our hotel but, with no wind, it felt warm.
Josh and I just fired up our computer and watched the video (above) of the KHQ TV interview with Rich Landers talking about our trip. It was great.... I told Josh it's too bad he did all the work and I get all the glory!
IF this weather holds: -20º at night with zero days, no wind and total sunshine, we will have a run through paradise along the coast to Unalakleet. It's 250 miles. So why hurry? You just cannot spend too much time on the Iditarod Trail in the spring.
Right now I would LOVE to be getting on my machine and getting ready to start from the beginning in Knik. The trail-dust we have on us would give the trail a totally new feeling. And it's too bad that one bad-order machine has prevented us from riding south to McGrath. The trail looks entirely different going in reverse, and it just might be even more gorgeous. I just mentioned to Josh that the loaner snow machine in UNC made it possible to continue on to Nome and, thus, to be able to participate in the very interesting post-Iditarod happenings here in Nome. We are indebted to our pal Greg Sumstead!
I would say that the only thing that detracted from our trip to Nome was the lousy light during the first ten days. It had a negative effect on the photos.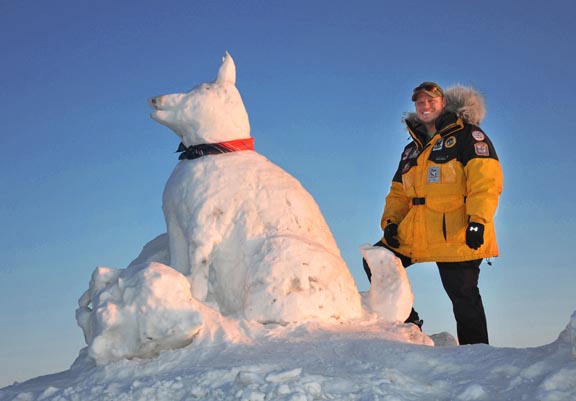 An afternoon call to Morgan Arctic Cat revealed a 'no apparent problems' condition for both machines. We had both serviced and checked out for the run to Unalakleet. We will depart Nome for there in the morning. We plan to spend two nights along the trail, camped first after a 90-mile run at the Walla Walla Shelter Cabin, and second, at the cozy little Foothills Cabin where we camped on our way north. After the 250-mile trip, we'll probably spend two nights in Unalakleet, where we will ship our sled and machines to Anchorage and then home. Freight cost: 25 cents a pound.
Josh and I took a cab to Morgan's and paid for the work on our machines. Mine was $140 and Josh's was $50. The owner remembered me from a party we had at the Safety Roadhouse about ten years ago. That memory warmed things up. We talked over my broken-machine problem, and he told me there was a good market for used machines in Nome right now. So, the decision was made that I will ship my machines north instead of south from Unalakleet. He will repair the broken drive shaft and will do his best to sell it here in Nome. That little move will simplify the machine problem immensely.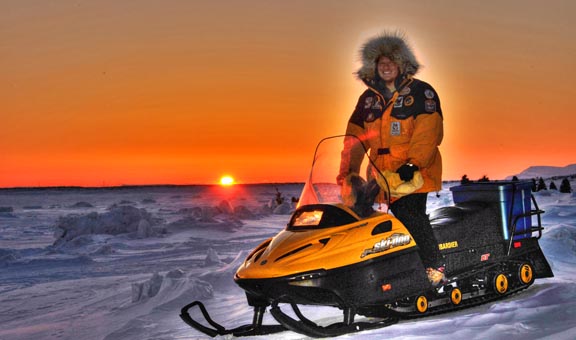 We drove to Chuck and Peggy Fagerstrom's for our 'breakfast-dinner' at 6pm. They always have me for breakfast on the morning I leave Nome. This year they both have to be at work in the morning, so we decided to have breakfast at dinner-time -- and, as always, it was a dandy! Sausage, bacon, fresh fruit, eggs, coffee, milk and all the sourdough hotcakes we could eat. Chuck does the breakfast cooking and his sourdough makings have been in continuous use by his family in Nome for more than 100 years!
After our three-hour dinner and BS session Josh and I rode the beach back to our motel. Peggy had created a giant snow-dog on the beach in front of their home and I got a photo of Josh with it. We got a chance at a couple of sunset photos and got back to our room after dark. In the morning 'we go'….
Go back to Diary and photos, days 1-6.
Go back to Diary and photos for days 7-10.
Go back to Diary and photos for days 11-12.
Go back to Diary and photos for days 13-14.
Go back to Nome Sweet Nome: Diary and photos for Day 15.
---
---