Wed., March 21, 2012, 10:30 a.m.
Olympic Discovery Trail proponents call for help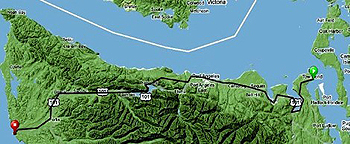 TRAILS -- The half-realized dream of a national-class lowland trail running 130 miles from Port Townsend to the Pacific Ocean needs money, quickly, to deal with a new requirement for an environmental assessment.
The Olympic Discovery Trail, which volunteers have been piecing together for 24 years along the Olympic Peninsula's north coast, has come to a land-use planning jam:
The group has until March 31 to raise enough money to construct an alternate trail segment plan the Washington Department of Fish and Wildlife is requiring to avoid a sensitive wetland area.
See a Rails-to Trails Conservancy report on the Olympic Discovery Trail.
---
---