TUESDAY, MAY 8, 2012, 7:26 A.M.
Sandpoint ospreys starting family under web cam
WILDLIFE WATCHING -- Things have been looking up for a pair of ospreys since groups in Sandpoint organized to relocate a nest that had to be moved at Sandpoint's War Memorial Field during renovations.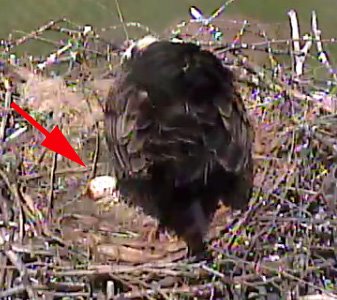 With a web cam fixed above the nest platform, the public has been able to watch the ospreys arrive on April 10 to begin build their next (see photos above) and go through courtship.
In late April, the camera caught skirmishes between the pair that adopted this nest and a second osprey pair that was attempting to hijack the nest. (The field on Lake Pend Oreille has two osprey nests.)
The Sandpoint Osprey Cam is a collaboration of the City of Sandpoint and Sandpoint Online with corporate support by Avista and Northland Communications. Consulting biologist is Jane Fink of Birds of Prey Northwest. Moving the nest and puting up the web cam was no easy task. Read about the project.
The Sandpoint Online web page includes a chat feature for osprey watchers to trade observations, plus Fink is providing an interpretive blog. The number of daily page views is in the thousands and growing especially this week:
Monday at 12:48 p.m. the female laid their first egg (above left).
Soon we'll all be able to watch the hatching and raising of a brood.
Meantime, check out this incredible osprey fishing video and brief yourself with Fink's answers to osprey FAQ»
---
---