Fundraiser to help post Spokane River fishing rules in Russian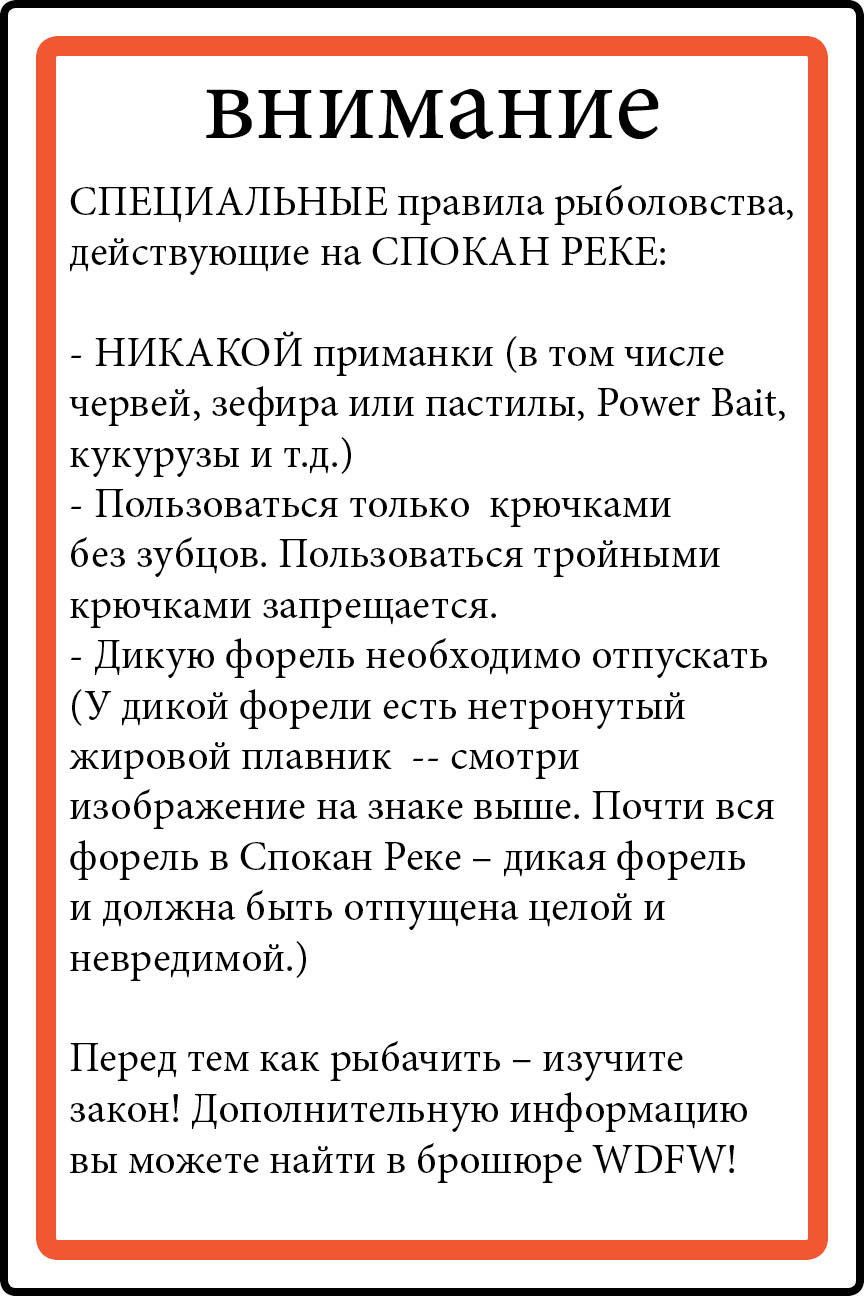 FISHING – Signs in Russian language are being designed for posting along the Spokane River to explain special fishing rules, and a fundraising is planned for Saturday to help pay for the effort.
A group of anglers is trying to get all Spokane River anglers speaking the same legal language about the fishing restrictions designed to protect the struggling native redband trout.
The group has worked with the Washington Fish and Wildlife Department to tanslate important rules into Russian for signs to be posted along the river.
The issue is about fish conservation, but the fundraising event to raise money for the signs is all about art and painting.
The Tipsy Muse event, set for Saturday (May 19), 1 p.m.-4 p.m. at Arbor Crest Winery, features participants getting chance to work on a painting alongside a professional artist. The participants get to keep their painting and everybody enjoys sipping wine and bidding on fly fishing trips, casino packages and other items.
Limited tickets are available online only. Cost: $45 (includes tasting fee) or $10 for spectators (non painting, but also includes tasting fee)
Read on for more details about the issue and the text on the signs.
Several Russian translators worked with the group to post this information requested by Washington Department of Fish and Wildlife officials:
ATTENTION

SPECIAL FISHING RULES IN EFFECT ON THE SPOKANE RIVER

NO BAIT (which includes worms, marshmallows, Power Bait, corn, etc.)
Single point, barbless hooks only. No treble hooks allowed.
Release all wild trout. (Wild trout have an intact adipose fin and are pictured on the sign above. The majority of the trout in this river are wild fish and MUST be released unharmed.)

KNOW THE LAW BEFORE YOU FISH! CHECK YOUR WDFW FISHING PAMPHLET FOR MORE INFORMATION!
For years, concerns have simmered about illegal fishing among Eastern European-Russian immigants, said Tyler Comeau, an Eastern Washington University student. Comeau has been working on the project with the Spokane Falls Chapter of Trout Unlimited.
Fish and Wildlife police confirm that language barriers often are given as excuses for poaching activity on the river.
They also note that many people, including local natives who speak good English, don't follow the rules.
---
---