Wed., April 16, 2014, 10:12 a.m.
Mica Bay Boater Park closed for tree removal
​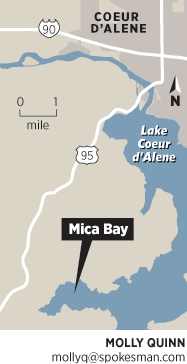 BOATING -- The Mica Bay Boater Park on Lake Coeur d'Alene has been closed temporarily until hazardous trees can be removed, according to the Bureau of Land Management Coeur d'Alene Field Office.
Closure of the popular lake access site will continue while operators work to fell and remove at-risk trees. The order is expected to be lifted by mid-May.
The BLM explains in a media release:
Last fall, after several diseased western larch fell and grazed a camp host's trailer, managers conducted a safety inspection of the trees in the recreation area and prepared an analysis outlining options to ensure the safety of users at the site. Western larch is typically noted for being resistant to diseases such as root rot but throughout the north-facing ridge bordering the site, many trees have been compromised. Because of the potential risk of failure that could cause a threat to people and/or property, managers determined that removal of the trees was necessary before the public begins to actively use the site for the summer season.
Mica Bay Boater Park is a popular day-use area for boaters on Lake Coeur d'Alene and is also accessible by foot for groups looking for a secluded picnic spot or quiet place to pitch their tent.
See information on alternate boater parks or picnic areas managed by BLM's Coeur d'Alene Field Office.
---
---