Fri., Aug. 8, 2014, 10:34 a.m.
Video: Carlton fires leave table bare for wildlife
Carlton Complex Fire Devastation Part 2 from Chelan HD, Sy Stepanov on Vimeo.
WILDLIFE -- The Carlton Complex wildfires in the Methow Valley region -- 250,500 acres and still burning; the largest recorded in Washington history -- have destroyed about 300 human-related homes and structures and countless homes and habitat areas for wildlife.
The video above by Chelan HD Productions illustrates the point.
State wildlife managers are already looking into reducing the region's mule deer herd to prevent starvation and heavy impacts on farmer crops as wildlife search for food this winter.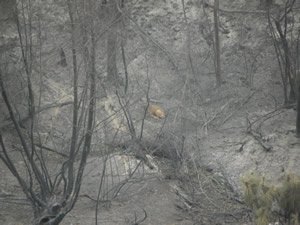 More antlerless deer opportunity in the area will be given to youths, seniors and disabled hunters.
Winter feeding is being planned to help keep some of the 10,000 migratory deer that will be coming out of the Cascades to the Methow from devastating orchards and irrigated crops this winter. Indeed, more than 100 miles of the fence built to keep deer out of these crop areas even in good times has been destroyed by the fires.
Habitat replanting is being planned.
Road closures are likely.
A web page has been created to help the Washington Department of Fish and Wildlife post information regarding developments involving wildlife, landowners and hunting.
---
---