Thu., March 6, 2014, 6:47 a.m.
Hangman Creek flows spike; rafters gearing up
RIVER RUNNING -- Every local veteran rafter, kayaker and canoeist knows the recipe: Snow followed by warm temperatures and rain are the ingredients for the brief surge of flows needed for whitewater action on Hangman Creek.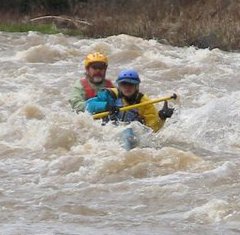 Brownwater action, I mean.
The river spiked from under 200 cfs yesterday to more than 6,000 cfs this morning after last night's downpour on the snowy landscape.
Rafters love these conditions.
Canoeists would be safer to let the flows settle. I personally like paddling the level around 1,200 cfs (see photo).
But it won't be long before Hangman settles down and once again becomes too low to float.
---
---