OUTDOOR SPORTS — A new partnership between the Boy Scouts of America and the Missoula-based Boone and Crockett Club could make Montana a premier destination for scouts from across the nation.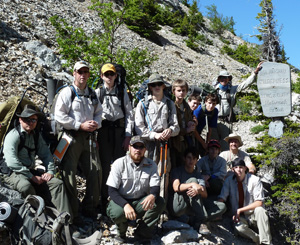 The Montana Council of Boy Scouts is assuming operation of a "high adventure base" at the Club's 6,300-acre Theodore Roosevelt Memorial Ranch near Choteau, Mont. The ranch adjoins the Bob Marshall Wilderness Area and serves as the center of summertime scouting activities such as trekking, backpacking, mountain climbing, shooting, wildlife watching and more.

Previously, Boone and Crockett managed the program in conjunction with the council.

The most noticeable difference in the new management is the council's goal of better incorporating the ranch into a larger plan to draw even more scouts to "The Last Best Place."

"The Theodore Roosevelt Memorial Ranch is one of only two nationally certified high adventure bases in the entire Northwest (the other is in Colorado). We want to make Montana one of the premier destinations for scout troops from all over the country," said Chuck Eubank, Montana Council president.
Gordon Rubard, executive director of the Montana Council said, "There aren't too many councils anywhere in the country operating their own high adventure base and associated programs, especially at a place where you can hike right off a private ranch and into one of the most rugged wildernesses anywhere. It's a beautiful, special, interesting place."
Another important difference in the new management of the high adventure base is a more streamlined process to get Boy Scouts on site.
Read on for more details, and info on the background of the Theodore Roosevelt ranch.