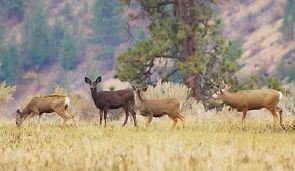 WILDLIFE WATCHING — A rare dark-colored mule deer was documented recently in photo on the Sinlahekin Wildlife Area as the doe fed with three normal-colored deer, including a buck in the rut.
Wildlife biologists say the deer appears to have an unusually high occurrence of melanin, a black pigmentation of the skin and hair.
The photo was made by Justin Haug, the assistant wildlife area manager who has a gift for capturing great photos from the state-managed land in Okanogan County near Loomis.