Sun., Nov. 3, 2013, noon
Mazda CX-9: Three-row virtuoso
LIke seeing an old friend after a long absence, it was good having Mazda's CX-9 back in my driveway.
The CX-9 is Mazda's largest vehicle, a midsize, three-row crossover with all the expected virtues -- a comfortable, high-tech cabin, abundant cargo capacity, available all-wheel-drive.
What distinguishes the CX-9, though, is the best ride and handling package in the class. It's a big crossover with Mazda's trademark small-car feel. Underway, it feels taut and sturdy. Steering is sharp and precise. Just-so suspension damping limits body roll without going harsh on city streets.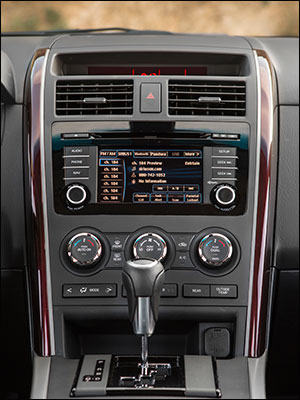 Other crossovers may appeal to those who enjoy driving, but only a handful can challenge the CX-9's $31,000 cost of entry.
The big rig looks good, too. A 2013 makeover tamed the excesses of its grinning-grill front facia and left it with a trim, but still distinctive, nose. With 20-inch alloys filling its flared wheel wells, my loaded Grand Touring AWD tester bore a vigorous, youthful air that photos don't do justice.
On the inside, the CX-9 is comfortable and spaciousness, though casual cabin storage is limited. Woodgrain and matte-finish metallic trim frame a handsome waterfall instrument panel. Leather wraps the steering wheel and shift knob, and soft-touch materials cover the touch points.
Hard plastics are attractively textured. Seats are comfortable and well bolstered. The center console houses a large bin, partial compensation for the shortfall of storage opportunities.
The second-row seat reclines and slides fore and aft to allow easy third-row access. Large rear doors assist ingress and egress.
Simpler access or no, the third row is the kid zone, roomy enough for 'tweens but in no more that short doses for everyone else.
The CX-9's standard audio system includes Bluetooth connectivity, a USB port and Pandora radio compatibility. A 5.8-inch multi-information display debuted last year as standard equipment. A new smartphone-based message system can receive and read text messages out loud. The user can reply using a set of fixed phrases.
The available TomTom-based, voice-activate navigation system allows consumers to input custom maps as well as regularly update mapping content and software via their home computer.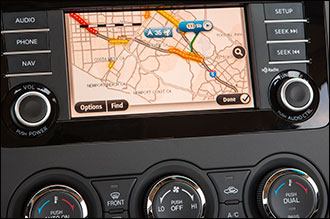 Powered by a 273-horsepower V-6 mated to a six-speed automatic transmission, the 4,500-pound crossover provides satisfactory acceleration. The gearbox makes quick, clean shifts and in manual-shift mode gives the driver near-complete control.
The available AWD system monitors wheel slippage, steering angle, yaw rate, lateral acceleration and available torque in deciding how much power to send to the rear wheels when the front wheels begin to slip.
One assumes Mazda engineers are working overtime on the next-gen CX-9, which will incorporate the company's SkyActiv efficiency technology. Doubtless, a new engine and transmission are in the works. As it stands, 2014 front-drive models are rated at 17 mpg city/24 mpg highway/17 mpg combined, AWD models at 16/22/18.
Whenever it comes, the new CX-9 will be welcome in my driveway.
Don Adair is a Spokane-based freelance writer. Contact him at don@dadair.com
2014 Mazda CX-9 Grand Touring AWD
Vehicle base price: $29,985
Trim level base price: $36,625
As tested: $40,005
Optional equipment included navigation, Bose premium audio and moonroof.
EPA rating: 16 city/22 highway
Regular unleaded fuel specified
---
---