Sat., Oct. 26, 2013, 6:57 a.m.
Turbo boosts Veloster performance profile
In 2011, Hyundai debuted an entry-level coupe called the Veloster. Its profile was half coupe, half hatchback and a pair of passenger-side doors gave it sedan-like utility.
Hoping to entice young buyers, Hyundai endowed the Veloster with flamboyant styling, impressive cabin tech and an affordable $18,000 price tag,
For all the its strengths, though, the Veloster failed to deliver the performance its sheet metal promised. Under the hood, a direct-injected, variable-valve 1.6-liter four delivered a listless 138 horsepower. By-the-numbers suspension and steering systems failed to extract whatever dynamic qualities its front-drive architecture possessed.
On the upside, the Veloster ran happily on regular unleaded and delivered EPA numbers of 29 mpg city/40 mpg highway.
This year, Hyundai elevates the Veloster's performance profile. A new Turbo trim ($22,895) bumps horsepower to 201 and torque jumps from 123 to 195 pound-feet.
The Turbo runs on unleaded and can be paired with either a six-speed manual or a six-speed automatic with paddle shifters.
With the manual, fuel efficiency is rated at 26 mpg city/38 mpg highway. The automatic returns 22/34.
On the outside, a gaping grille provides the engine compartment with extra cooling capacity. It's flanked by foglights and projector headlights with LED accents. Lower side sills add ground effects styling, while chrome details accent 18-inch alloy wheels.
Though the Turbo retains the Veloster's basic dimensions, a redesigned rear diffuser makes it look lower and wider. Round exhaust ports replace the base version's trapezoidal tips.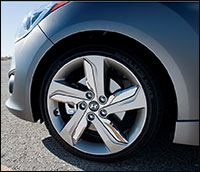 ​​On the inside, a seven-inch color touch-screen dominates the center stack and is surrounded by large and easy-to-use controls. Cabin design is clean and contemporary, and fit and finish is excellent. Details includes electrochromatic gauges and bolstered and Turbo-stitched front sport seats.
Located aft of the main passenger-side door, the third door opens to a surprisingly roomy rear seating area. There's enough head- and legroom for a pair of adults, though the seat cushions sit low to the floor.
The extra door simplifies the use of a child seat.
Underway, off-the-line acceleration is hampered by a surprisingly low first gear. When the power comes on, though, it comes in a rush. With its broad power band, the Turbo pulls hard out of corners from relatively low engine speeds.
The holes cut into the Veloster's unibody to accommodate the large rear hatch, third door and optional sunroof reduce structural rigidity and limit fine suspension tuning. Chassis flex is noticeable during hard cornering and vibrations from the road surface can be felt through the steering column and cabin floor.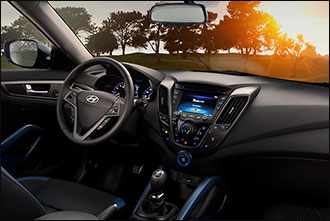 The steering rack is quicker this year and steering calibration is tweaked for improved responsiveness and turn-in. The system lacks road feel, though, and only reluctantly returns to center. A good set of performance-oriented all-season tires would offer better grip than the standard all-season tires but might degrade ride quality.
With the Veloster Turbo, Hyundai meets enthusiasts half way. Those who want to go a step further can turn to the aftermarket -- or wait for the anticipated R-spec version. For now, the newest Veloster is a solid -- and modestly entertaining -- small-coupe value.
Don Adair is a Spokane-based freelance writer. Contact him at don@dadair.com.
2013 Hyundai Veloster Turbo M/T
Vehicle base price: $17,600
Trim level base price: $22,100
As tested: $25,520
Optional equipment included panoramic sunroof, backup warning sensors, automatic headlights, navigation with rearview camera, unique paint, carpeted floor mats
EPA ratings: 24 city/35 highway
Regular unleaded fuel specified



---
---