Mon., Dec. 14, 2009, 12:46 p.m.
Back in the news: Sleepy car thief
It was the Spokane teenager's chance to explain himself to the judge before he was sentenced for car theft last summer.
It took him a couple of tries.
"I don't even know what you just said," Spokane County Superior Court Judge Maryann Moreno told Cody A. Gronau in July. The judge told Gronau he seemed to have just strung a bunch of words together that sounded good but didn't mean anything to him.
Gronau tried again: "I've been slacking and doing stuff I'm not supposed to do."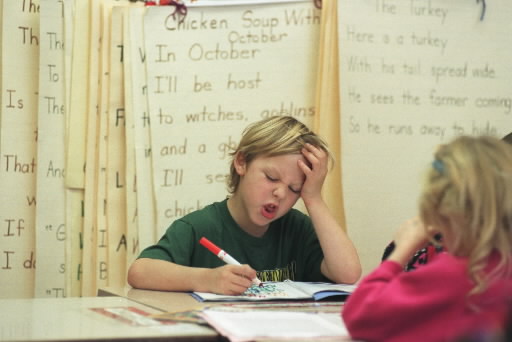 Five months later, police say Gronau, now 20, tried robbing two people minutes apart near East Sitka and North Nevada Street before being taken down by a K-9 named Leonitis.
Gronau, pictured left in 1996 as a Garden Springs Elementary School first grader trying to pronounce the 'N' letter, was arrested Saturday about 1:30 a.m. after he ran across Francis to the south – losing his shoes in the process.
Gronau, who police say didn't have a gun, is now in Spokane County Jail, due in court today on charges of first-degree robbery and obstructing a public servant.
He was sentenced July 28 to 90 days in jail with credit for 87 served after falling asleep in a stolen car outside the Zip Trip at 1523 W. 10th Ave. in May. (Read more here.)
Gronau's public defender said at his felony sentencing last summer that he was in mental health court for fourth-degree assault and harassment charges and read a list of drugs he's been prescribed.
---
---