THURSDAY, OCT. 1, 2009, 10:40 A.M.
Post Falls joins OxyContin crime club
Post Falls police have released photos of an OxyContin robbery Wednesday.
An employee at Walgreens, 706 E. Seltice Way, called 911 just after 5:33 p.m. and said a man with a bandanna covering his mouth handed her a note saying he had a gun and demanding the prescription pain killer.
Police were already en route to the store to respond to a silent hold-up alarm.
The photos show a man in an orange and tan billed beanie hat walking down an aisle at 5:29 p.m., talking to a pharmacy employee at 5:33 p.m., then walking out of the store at 5:35 p.m.
He wore a white hooded sweatshirt with tan sleeves, dark jeans and dark sunglasses.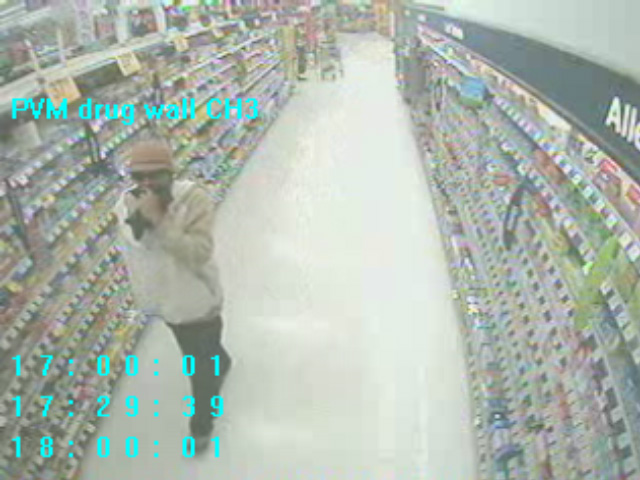 Witnesses described him as in his early 20s with a thin build, slight facial hair and about 5-foot-8 to 6-feet tall. Anyone with information is asked to call the Post Falls Police Department at (208) 773-3517.
Police don't know if the robbery is connected to this robbery Sunday night at a north Spokane Rite Aid (the robber fled in a SUV with Idaho plates; the company that makes OxyContin is offering a reward).
While pharmacy robberies have plagued Spokane, Kootenai County has seen only a few in the last couple of years.
Walgreens installed time release safes in all Washington stores this summer (read about it here), and no robberies have been reported at those stores since.
---
---