Wed., Oct. 7, 2009, 1:14 p.m.
Teen bandit becoming national sensation
His following seems to grow as quickly as the list of crimes people speculate he may have committed.
Colton Harris-Moore has been something of a legend in the town of Camano Island, where he grew up and is suspected of nearly 50 burglaries and thefts, including boat and plane heists, since his escape from a halfway house in April 2008.
The Seattle Times has chronicled the teen's exploits for more than two years, but the bandit has made headlines across the country in the past week after speculation arose that he may be responsible for stealing a Cessna 182 Turbo plane from the Boundary County Airport in Bonners Ferry.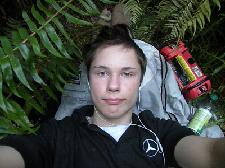 ABC news had branded Harris-Moore a "modern-day Huckleberry Finn" in this article published a week before he was linked to the theft. That pushed the teen into the national spotlight, but last week's news about the stolen Cessna has been published and broadcast all over the country.
His mother has gained her share of fame, too, thanks to comments like "If he really flew those planes, I'm proud of him. I was going to send him to flight school. I guess I don't have to." (Read more here)
A brief Internet search suggests Harris-Moore's fame is only beginning. A Facebook fan club dedicated to the teen had more than 700 members as of 1 p.m. and was growing by the minute. A man in Seattle, Adin Stevens, (shown above) recently printed t-shirts with a picture of Harris-Moore and the phrase "Momma tried. Colton Harris Moore fan club."
Officials first suspected a group of drug runners may have been responsible for the two burglaries at the airport, which followed break ins at the Creston, B.C airport in which someone tried to take a similar Cessna.
But after the plane crash landed in a clear near Granite Falls The Seattle Times reported that the Island County Sheriff's Office had sent a detective to assist in the investigation because of the possibility that Harris-Moore was involved.
Federal aviation authorities say only one person was a board the plane, according to this AP article.
The plane's owner said last week that authorities were connecting Harris-Moore to the theft through "method of operation."
In the two earlier plane thefts, authorities say Harris-Moore stole a Cessna 182 from an Orcas Island hangar last November and flew it to Eastern Washington, where he made a "hard landing" on the Yakima Indian Reservation, according to The Seattle Times.
On Sept. 11, Harris-Moore allegedly stole an experimental aircraft from Friday Harbor and flew it to Orcas Island, where it, too, made a "hard landing," The Times reported. Bare foot prints were found at the scene of the latest plane theft.
Harris-Moore is known not to wear shoes.
---
---