Mon., Oct. 26, 2009, 7:51 p.m.
Man linked to sex with horses, again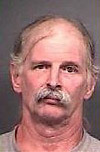 A man who helped trigger the passage of a law banning bestiality in Washington has once again been linked to sex with horses, this time in Tennessee.
Sheriff's investigators said Tuesday that 58-year-old James Michael Tait (right) was having sex with horses on a Maury County farm. He and the farm owner, 44-year-old Kenny Thomason, are charged with animal cruelty.
The Seattle Times tackled this story last week. Check it out here.
Read a story on Washington's bestiality bill, which passed in 2006, here.
---
---