Thu., Sept. 10, 2009, 8:23 a.m.
Boothe trial could go to jury today
The trial of a Spokane police officer accused of kicking a handcuffed man in the face is expected to wrap up today.
Officer Rob Boothe is charged with fourth-degree assault after two officers reported seeing him kick a handcuffed suspect in the face who apparently wasn't struggling to get away.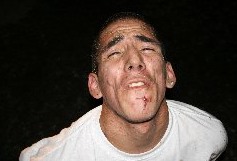 The case is both a criminal trial and a window into internal conflict in the Spokane Police Department, as Thomas Clouse explains here.
The victim, John Luna, testified yesterday.
The picture of him at the left, courtesy KHQ news, was taken by the Spokane Police Department after the alleged assault.
---
---