Fri., April 9, 2010, 5:28 p.m.
Police: Drug dealer, teens tortured burglar
Two teenagers and a Spokane man are accused of kidnapping and torturing a suspected burglar.
Police believe Chaz P. Crow, 20; Jesse T.R. Bushnell, 19; and Jesse R. James, 17, kidnapped Russell Cole on two occasions in revenge for Cole stealing from Crow's apartment, according to court documents filed this week.
Crow is in jail on a $5,000 cash-only bond after appearing in Spokane County Superior Court today.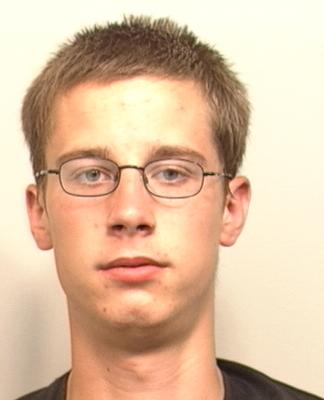 James and Bushnell are not in custody, and Crime Stoppers is offering a reward for tips that help catch Bushnell. (Bushnell is pictured at left.)
Two other suspects have not been identified.
The case began last weekend when detectives say the suspects spotted Cole, who reportedly bought drugs from Crow, leaving Crow's apartment with valuables, including a rifle and a half-ounce of marijuana.
The suspects are accused of dragging Cole from his apartment at 3005 E. 35th hours after the burglary, then beating him until he told them where to find some of the stolen items. Bushnell then pistol-whipped Cole with the stolen rifle, police said.
The attackers left but kidnapped Cole again from a home at 2525 E. 53rd later that night and demanded the stolen marijuana, according to court documents.
Firefighters found Cole walking on near the Palouse Highway and Valley Chapel Road with a broken nose, concussion and wounds "all about his head and body," according to court documents prepared by Spokane police.
James' brother, Martin Garcia, lives at the home on 53rd. Garcia told police the men bound Cole's hands with black electrical tape before tying a bandanna around his eyes.
James reportedly apologized to Garcia and assured him they wouldn't kill Cole, but Crow said "You don't know that," according to court documents.
The men drove about 40 minutes to a field before pulling Cole from the car and assaulting him.
Crow, Bushnell and James are charged in Spokane County Superior Court with two counts of first-degree kidnapping, one count of first-degree burglary and two counts of second-degree assault: torture.
The assault charge alleged the men inflicted harm "which by design did cause such pain or agony as to be the equivalent of that produced by torture."
---
---