Tue., April 13, 2010, 7:02 p.m.
Spike strip stops Spokane fuel theft suspect
A police chase in Spokane early Tuesday ended with the arrest of a man suspected in a series of fuel heists in the Inland Northwest.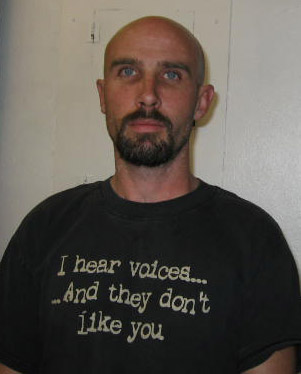 Richard L. Trower, 37, was driving a stolen Honda Accord when officers used spike strips to flatten the tires during a chase on East Trent Avenue after 2 a.m., according to court documents prepared by Spokane police.
Trower (pictured left at the Benewah County Jail in 2008) was arrested after a cruiser bumped the back of the Honda as he drove on the wheel rims. His passenger, 28-year-old Ambur R. Bay, was arrested on a drug charge.
It's the second arrest in two months for the duo, who police believe may be involved in an interstate fuel theft ring that triggered a massive drug and stolen property investigation by the Spokane County Sheriff's Office.
Spokane police detectives believe Trower is an associate of the suspects arrested in a stolen property investigation on March 23, including 36-year-old Cole T. Monson, but Trower has not been charged.
Read the rest of my story here.
---
---