Tue., April 20, 2010, 10:55 a.m.
Police saw signs smuggler liked bestiality
By GENE JOHNSON, Associated Press Writer
SEATTLE (AP) — Last week's animal-abuse arrest of a convicted cocaine smuggler wasn't the first time authorities had found something linking him to bestiality.
A Monroe police commander said Monday that when Douglas Spink's sport utility vehicle was pulled over in 2005, Spink was strangely protective of a female German shepherd that was with him, and he had stickers on the car indicating he was an animal-man-love activist.
Investigators didn't bother with those clues because they had much more pressing concerns, namely the 372 pounds of cocaine in the SUV, Cmdr. Steve Clopp said.
"It struck us all as very odd," Clopp said. "We really hadn't ever dealt with it before. I mean, you're driving around with 169 kilos of cocaine, you might be concerned with yourself or the predicament you're in. But he was just really concerned with the dog."
Authorities searched Spink's farm Wednesday after prosecutors received a tip from a public defender's office in Tennessee. The office reported that Spink had been calling them incessantly about a jailed defendant in a bestiality case in Tennessee.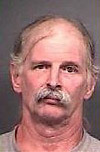 That man, James Michael Tait, (right) had previously admitted filming a man having sex with a horse in Enumclaw, Wash., in 2005. The man Tait filmed died of internal injuries suffered during the incident. He received a minor sentence in the case because Washington had relatively weak bestiality laws at the time. It's not immediately clear why Spink was calling Tennessee about the Tait case.
Spink's lawyer insists there's no evidence Spink engaged in bestiality.
Read the rest of the Associated Press story by clicking the link below.
Spokesman-Review columnist Doug Clark dedicated a column to this case today. Check it out here, and enjoy a song he wrote about Tait's case here.
Spink, once a wealthy entrepreneur in Oregon, received a three-year sentence in the smuggling case because he cooperated and helped bring down local kingpin Robert Kesling, who's serving 17 years.
After doing his time, Spink moved to a crudely built compound in Whatcom County, near the Canadian border.
He was arrested last week on charges of violating the terms of his supervised release from prison by engaging in animal cruelty and withholding information from probation officers about his travel and assets.
A 51-year-old tourist from Great Britain was on the property and was arrested for investigation of bestiality after agents found videos of him abusing dogs. Investigators seized dozens of animals from the compound — horses, dogs and mice.
According to documents filed in Whatcom County Superior Court on Monday as part of the case against the tourist, Spink was running a bestiality-themed Web site from the compound.
Investigators also said it appeared Spink operated a farm where visitors could engage in twisted sex acts with animals, and they said they found images of child pornography there.
Spink has not been charged with any bestiality or child porn charges, only with violating the terms of his supervised release.
He appeared in U.S. District Court in Seattle on Friday and was ordered detained pending a hearing set for April 30.
Spink was pulled over in 2005 after investigators watched five suitcases of cocaine being loaded into his Chevy Tahoe.
Clopp, a sergeant at the time, was a narcotics K-9 officer and took part in the search of the vehicle. He said the initials written on the SUV's stickers were not obviously connected to bestiality.
In fact, agents researched them in case they were signals of legitimacy to other smugglers.
That's when they learned the stickers concerned groups devoted to animal-human love, Clopp said.
"Who puts stickers on their cars — even covertly — saying you're into bestiality?" he asked.
---
---