Mon., Aug. 9, 2010, 12:04 p.m.
Robbery suspect has history of eluding
A Spokane police officer whose neck was fractured when his patrol car was broadsided by another vehicle was en route to catch a suspect with a lengthy criminal history - including a pursuit seven years ago that led to the death of a sheriff's deputy.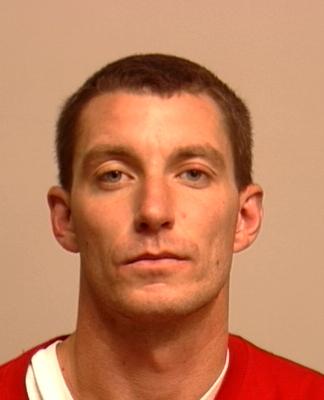 This time, the officer, whose name has not been released, was hit at Riverside Avenue and Browne Street at 2:30 a.m. as he drove through a flashing red light with his car's emergency lights flashing while responding to robbery call involving Christopher W. Hardwick (pictured), the Spokane County Sheriff's Office reported.
The officer suffered non-life threatening injuries; police this morning did not have an update on his condition.
The driver accused of hitting him, 19-year-old Taylor R. Shockman, sustained minor injures and was arrested for vehicular assault, then released to her parents.
Hardwick, 30, was arrested with Kevin W. Nichols, 26, accused of stabbing a man in the stomach and stealing his wallet near the Cenex gas station at Mission Avenue and Ruby Street just before 2:30 a.m.
Nichols and Hardwick allegedly drove a stolen Honda Civic to Riverfront Park, where one jumped into the Spokane River, and officers followed on foot.
It's a tragedy that mirrors a a bad collision in 2003 that fatally injured a Spokane County sheriff's deputy.
In both cases, the law enforcement officials were pursuing Hardwick.
And in both cases, Hardwick seemingly had little to do with the actual injuries.
In 2003, Deputy James Slater suffered fatal head injuries when his patrol car left Grove Road, southwest of Spokane, on a sharp curve while responding to back up another deputy who was following a stolen car with Hardwick inside, according to previously published reports. Slater died at a hospital the next day.
Hardwick and Nichols are due in Spokane County Superior Court this afternoon, on charges of possession of a stolen motor vehicle, first-degree robbery and first-degree assault.
Hardwick faces additional charges of attempting to elude police and second-degree possession of stolen property.
The felon's lengthy criminal record includes convictions for attempting to elude police, first-degree possession of stolen property, first-degree theft.
He was sentenced to 6 months in federal prison and three years federal probation for a counterfeit money scheme busted in 2005.
Nichols pleaded guilty to felon in possession of a firearm in that same case and was released from prison in July 2009, according to the Federal Bureau of Prisons.
---
---