Coeur d'Alene's police chief chased down a man suspected of stealing a motorcycle and arrested him at gunpoint this week.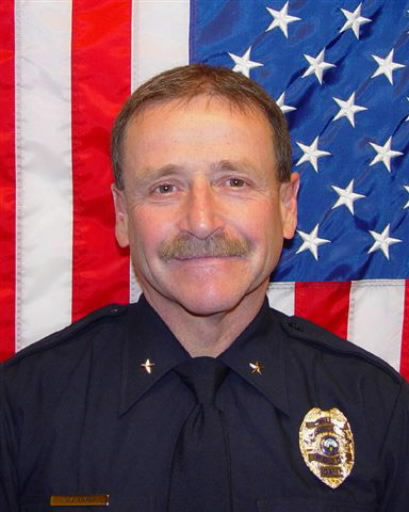 Chief Wayne Longo (left) was backing up Officer Hank Dunham on a stolen vehicle stop when Daniel W. Bisher, 35, took off on foot through heavy traffic in a commercial area at Appleway Avenue and Government Way just before 4 p.m. on Tuesday.
Longo chased Bisher as Dunham ran to Appleway to intercept him. Bisher twice reached to the front of his coat and ignored Longo's demands, saying "he was not going to jail," police said. 
Longo pulled his gun on Bisher, but Bisher (right) continued running before Dunham and Longo caught up with hi
m.

Bisher had a loaded .40 caliber Glock handgun in his jacket and a knife in his pants pocket, as well as methamphetamine.
The gun had been reported stolen in Coeur d'Alene; the motorcycle had been stolen from Spokane, police said.
Coeur d'Alene police Capt. Steve Childers called Longo "a street partolman at heart."
Department spokeswoman Sgt. Christie Wood said Longo always monitors his police scanner and frequently backs up patrol officers.
Bisher has a criminal history that includes a pending felony charge in Spokane County of second-degree unlawful possession of a firearm.
Police said he lives in Spokane, but newspaper archives show he's also lived in Coeur d'Alene, Spirit Lake and Rathdrum.