TUESDAY, DEC. 7, 2010, 6 A.M.
Mixed verdict in Lakewood shooting trial
TACOMA, Wash. (AP) — A jury in Tacoma returned mixed verdicts today against four people accused of helping Maurice Clemmons after he gunned down four Lakewood police officers in a coffeeshop last year. 
Two of the defendants — Clemmons' aunt Letrecia Nelson and his cousin Eddie Davis — were found guilty of rendering criminal assistance and gun charges. Another, Do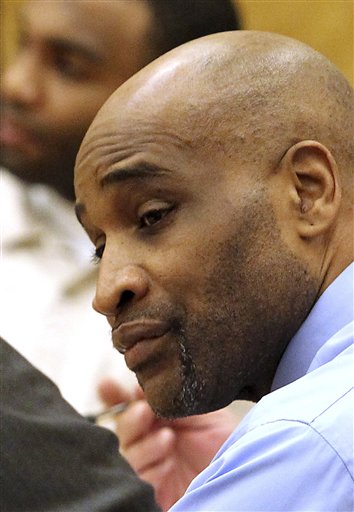 ug Davis, was convicted of gun charges for handling a weapon taken from one of the slain officers, but not of helping Clemmons. 
Clemmons' half-brother, Rickey Hinton (right), was ac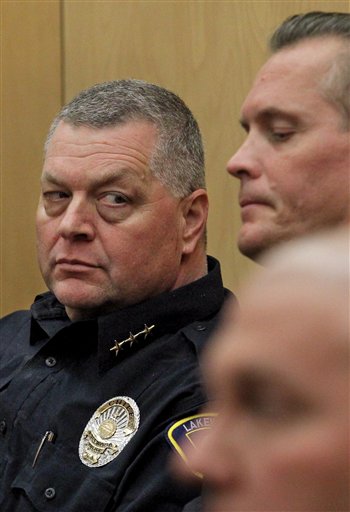 quitted of all charges, and Judge Stephanie Arend signed an order authorizing his immediate release from jail. Lakewood Police Chief Bret Farrar and Pierce County Prosecutor Mark Lindquist are pictured at left reacting to the verdict.
Pierce County prosecutors alleged that the four provided medical aid, transportation and other help to Clemmons as he tried to evade a massive manhunt.
Clemmons was killed by a lone Seattle patrolman two days after he shot Lakewood officers Greg Richards, 42, Tina Griswold, 40, Ronald Owens, 37, and Sgt. Mark Renninger, 39, on Nov. 29, 2009. (The victims are pictured above from left to right.)
Read the rest of the Associated Press story here.
---
---